Adopting an Older Dog
This story was sent to us by Cathy, one of our volunteers. Please read it.
My GSD Collie cross was a stray, no idea where she came from or how she got to be where she was found. They thought she was about 5 years old by her teeth but they weren't sure, she may have been older or younger. She did her 7 days in the pound and when getting her dressed it was discovered she had already been dressed.
She came home with me and she was an extremely skinny, timid and fearful creature with a dominant streak who would take a mile if you gave her an inch. She would jump up and crowd you. She would wet the floor if you raised your voice even just to shout up the stairs. She would push you out of the way rather than walk through a puddle. She used to freak out when she saw men in dark clothing of if you had a brush or a mop in your hand and she would cower so I can only assume that she had been beaten. She also had a jealous streak and would chase anything that moved, plus she had a liking for fox pooh perfume!! We went to puppy training classes as she had some basic commands but I reckoned that I needed training.
Between 6 and 9 months after getting her she started to come out of her shell and she realised that she was not going to get punished and that it was ok to go in puddles and get dirty and boy did she use that to her advantage. With continued training I now have a dog who is slowly making her way towards the Rainbow Bridge but I can, and have, taken anywhere and everywhere with me and she is well mannered and behaved. She is now 17 years young and still has a good quality of life, though she is starting to struggle a bit with steps and a few "old lady" problems.
If you are looking past an older dog, please think again as they bring many benefits and have loads to give. They are past the puppy stage and have calmed down but have in no way lost their joy for life, the saying goes that you cannot teach an old dog new tricks but with time and patience I found that not to be true. No dog is going to be perfect and you only get out what you put in.
| | |
| --- | --- |
| | |
One by one, they pass my cage, too old, too worn, too broken, no way! Way past his time, he can't run and play. They shake their heads slowly and go on their way. A little old man, arthritic and sore, it seems I'm not wanted anymore. I once had a home,... I once had a bed, a place that was warm and where I was fed. Now my muzzle is grey and my eyes slowly fail. Who wants a dog so old and so frail?

My family decided I didn't belong, I got in their way, my attitude was wrong. Whatever excuse they made in their head can't justify how they left me for dead. Now I sit in this cage where day after day, those younger dogs get adopted away. When I had almost come to the end of my rope, you saw my face and I finally had hope! You saw through the grey and the legs bent with age...and felt I still had life beyond the cage. You took me home, gave me food and a bed...and shared your pillow with an old tired head. We snuggle and play, and you talk to me low. You love me so dearly, you want me to know.

I may have lived most of my life with another but you outshine them with a love so much stronger. And I promise to return all the love I can give, to you my dear person, as long as I live. I may be with you a week or for years; we will share many smiles, you will no doubt shed tears. And when the time comes that God deems I must leave, I know you will cry and your heart, it will grieve. And when I arrive at the Bridge, all brand new...my thoughts and my heart will still be with you. And I will brag to all those who will hear...OF THE ANGEL WHO MADE MY LAST DAYS SO DEAR. ~ Author unknown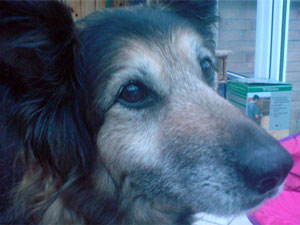 In memory of the beautiful Alice who sadly passed away on the 20th of September 2012.