April 2017 Update - One of our volunteers and dog trainer has been working with Farrah over the last few months. She feels she is now ready for a new home. Here is what she has to say:
I met Farrah around 6 months ago. She was very confused and it took good few weekly visits to build her trust. Once she trusts you, she is eager to learn and very loving . She gets overwhelmed quickly if she's not sure of the situation, but recently she started looking for guidance and recovery time has shortened, which is what we have been working towards in the last few months.
She is definitely not a city girl and enjoys her walks in the quiet areas. She loves to play with the ball and never says no to the gravy bone. When out on walks, she stays very close to me, but in the last few walks she started exploring a little more. Her confidence is growing.
She doesn't trust strangers and her new potential owner would need to visit her a few times and spend time with her.
She is very loving when she gets to know you and needs someone who is experienced and understanding to continue guiding her through life and help her to become an excellent companion.
***********
One of our volunteers took Farrah out on a trip to the beach this week to see how she was around new things. She coped really well with a busy promenade, kids going past her on bikes and scooters, road works, the lot. She did grumble at the dogs she met who came into her space but she coped fine with them walking past her.
We feel Farrah now really needs to find her new home
**********
Farrah is a very excitable young girl, with loads of energy but has had very little training. She is dog reactive however this is being worked on at the moment and a muzzle is being used and seems to be working.
She has been left to her own devices for most of her life, with no training or socialising been put in. She will require an experienced shepherd owner who is willing to put in some time and effort in to her training and with meeting people and other dogs when out walking. We hope that as she is still fairly young that good training will turn her around.
She's a No to dogs and any kids must be teenagers.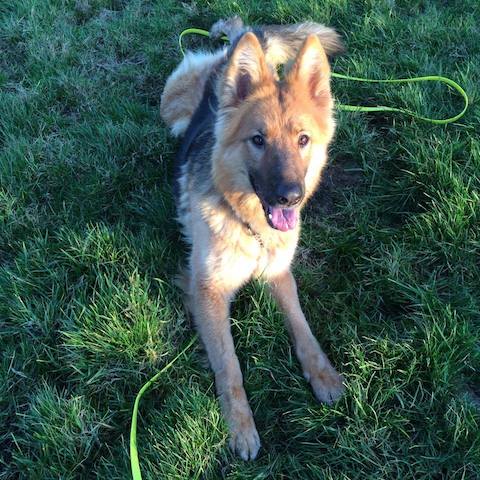 Farrah has shown Food aggression since coming into kennels, it is being worked on but is still an issue and new owner must be aware of this and leave her in peace whilst she is eating.