BREEZE - 9 MONTHS OLD
Breeze (or Beebee) is being rehomed as her owners are both suffering from ill health and can no longer walk her.
Breeze was immediately very friendly when our volunteer visited. She is extremely boisterous and jumped up repeatedly looking for attention. Her actions were clearly friendly, but she is strong for her size and would need to be rehomed with someone who will work on her training.
Breeze barks for attention at times, but went into her crate of her own choice and lay quietly for part of the visit.
Breeze is a young dog who is not getting the chance to expend enough energy and, as a result of this, at the moment she is too boisterous to be rehomed with children or anyone frail. However, increased exercise and the mental stimulation she would get from training should help to calm her boisterous behaviour.
Breeze is presently not used to being walked on lead so this would also need to be worked on by her new owner.
Her owners say that Breeze can be reactive to strange dogs. However,Breeze lives with an older male GSD who has a very quiet and placid nature and they get on well.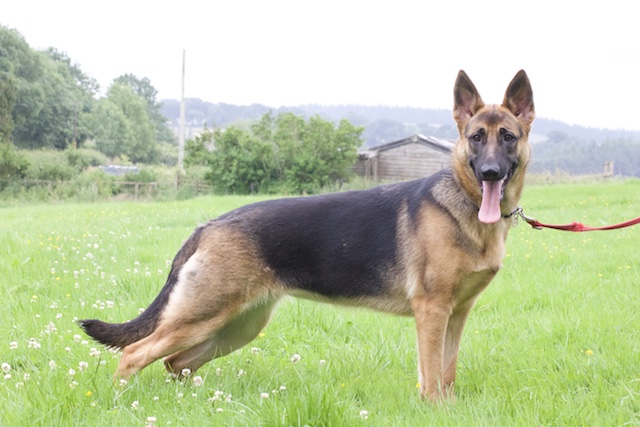 Breeze's energy levels are however too much for the older dog to keep up with. Breeze is crate trained and house trained and her present owners say they will pass on her crate with her when she is re-homed.
Although Breeze is very boisterous, our volunteer liked her friendly nature and is of the opinion that Breeze would be a good companion for someone who can give her the exercise she needs and can dedicate time to
working on her training