Latest News
First of all we would like to say a big thank you to all of our volunteers for their continued support and take this opportunity to welcome all of our new volunteers.
Tracking success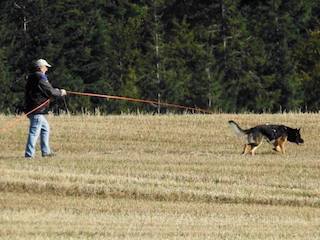 Well what a successful tracking weekend we had, raising a fantastic £481 over the course of the weekend.
Thanks to everyone who took part, to our Judges, our tracklayers and the girls in the kitchen (and to those that helped clean up Carolyn's mess in the kitchen).
Congratulations to all the winners and their amazing dogs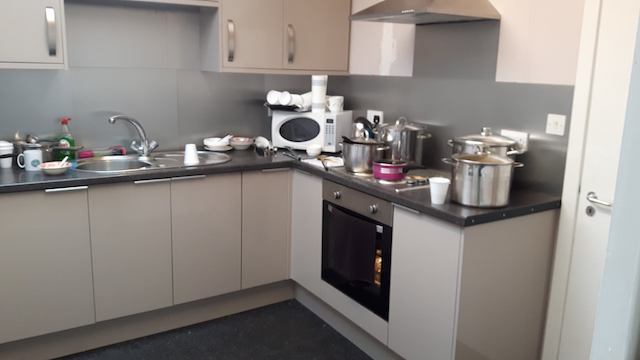 Carolyns kitchen befor the mess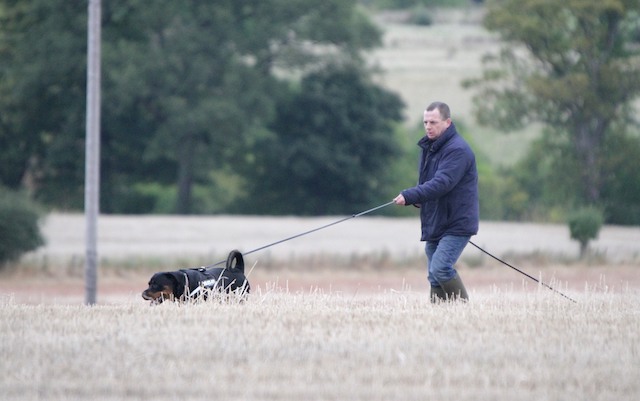 August wishlist thank you
Thanks to our wishlist donators (upto August 17). Here are the goodies arriving at the kennels
**Our wishlist photographer sends her apologies for the delay in sending us this photo.**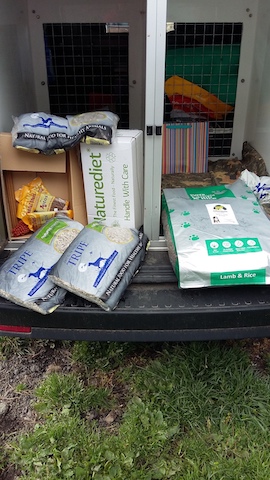 Chloe completes her 2k run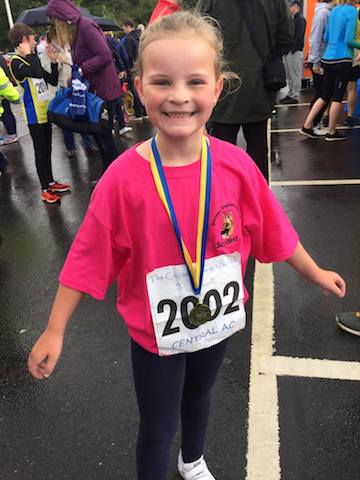 SHE DID IT - 9 year old Chloe is a little inspiration, she has just completed her 2k run raising a total of £403 for German Shepherd Rescue Scotland. We are very proud of you Chloe!
Well done Rachel and Scott
Congratulations to Rachel & Scott who completed their kilt walk yesterday. They also did a great bit of advertising for us on the way. Their own GSD and inspiration for their fundraising walk was presented with the medal when they returned.
THANKS for your efforts Rachel and Scott the rescue really appreciates it x (Total raised will be updated when all their pennies are collected )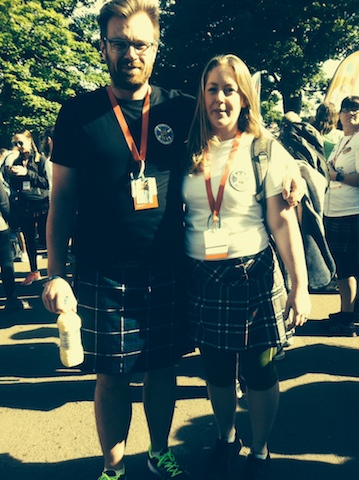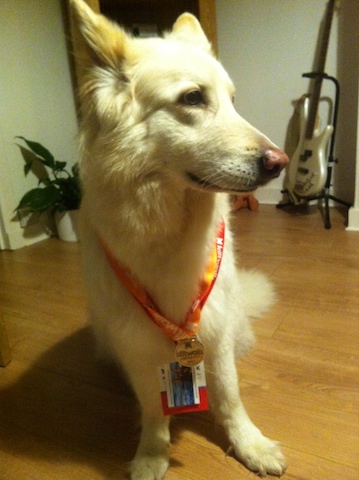 Rodeo success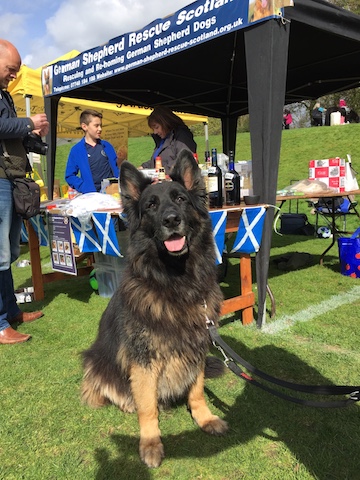 Big thank you to Lorraine, Alistair, Megan and Shannon for holding our rescue stall at the Glasgow vet school Rodeo on Saturday and to Kelvin and Andrew who were out on the ground handing out our leaflets.
And special shout out to Rhan for promoting our fantastic breed. They all raised a fantastic £240 on the day!
Thanks to everyone who said hello to them on the day.
In Memory of Roseanne McGinn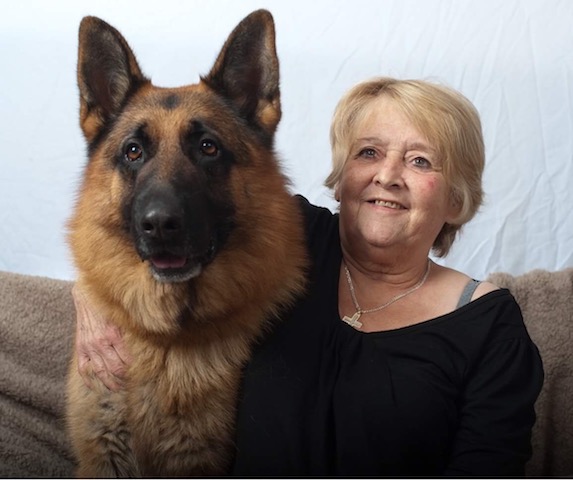 In Memory of Roseanne McGinn (pictured here with Hundark Raffi.)
On Saturday 22nd April at the Strathclyde Champ show Carolyn and Dorothy met with Mandy, Roseanne's daughter to accept the donations from Roseanne's funeral. We are delighted to let you know that including the online donations Roseanne's friends and family have collected £837 for German Shepherd Rescue Scotland in her memory. I am sure she will be delighted with this and it will certainly be put to good use.
We would also once again like to thank Roseanne's family for thinking of us as such a sad time. We are extremely grateful.
**************
Sadly this week we were contacted by the family of the Roseanne McGinn who recently passed away, they wanted to let us know that the family were arganising a collection for us at Roseanne's funeral this Friday (14th April 17).
We cannot thank the family enough for this very kind thought at such a sad time. Roseanne's daughter Mandy has provded us with a few special words about Roseanne that we would like to share with you. Mandy writes.......
Sadly on the 8th April 2017 my mum Roseanne lost her life to cancer. She was an amazing woman who had animal welfare at the forefront of her life.. from a young age she worked with animal rights, protecting those animals in need and continue to work with rescues taking on an older GSD who was in dire need of love and care, Elsa, as we called her, lived out the last of her days with My mum at home where she was kept clean, given quality food, freedom to roam around the field at her leisure but most importantly knowing she was loved. Her most recent rescue was a lovely male GSD who's owner no longer wanted him, she took him, he was terrified of everything, she worked with him giving reassurance and love which enabled him eventually to move into his permanent loving home..but she didn't stop just with German Shepherds, she also rescued 2 horses a few years back, Floyd and Dixie, Dixie unfortunately had been badly abused and despite mums best efforts to keep him alive he lost his life as his legs were buckled, mum did a sponsored walk at a time when she wasn't in the best of health herself and raised several hundreds of pounds to enable Dixie to get an operation on his legs. This gave him a little longer life than he would have otherwise had.
So you see, it was only fitting that she would want her friends and family to donate to the breed she has devoted her life too and she would want to make sure that despite not being in this world anymore, she can still play her part in saving their lives ?? forever in our hearts .. Mandy McAteer (Roseanne's daughter)
Trails bike fundraiser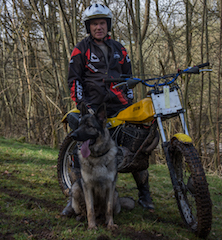 Trials Bike fundraiser at the weekend made us an awesome £550 and it looks like they had a lot of fun raising an amazing amount for our dogs in need.
Great to see our very own rescue dog Diesel on duty supervising and testing the tyre pressures for everyone.
Massive thank you to East Neuk Wobblers Trial Club who ran the event, and a very special mention to Maggie for doing doing all the admin.
GSRS Team really appreciated your efforts.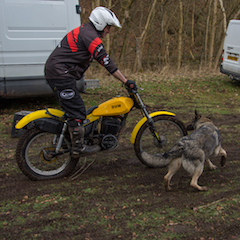 Thank You Nithsdale Vets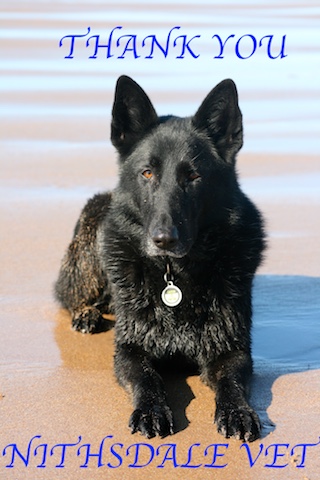 Thank You to Nithsdale Veterinary surgery, in Thornhill, Dumfries for a fantastic donation of £120 to us. Nithsdale vets created their own calendars for 2017 and all the money raised was divided and donated to charity. We were lucky enough to be one of them and the money will be put to great use. Thanks to everyone involved in creating the calendars and all the customers who bought one your donation is very much appreciated
GSRS Team and the dogs x
December wish list arrives
We cant thank our wishlist supporters enough this year. Our December delivery arrived at the kennels today and we are truly over whelmed by your generosity.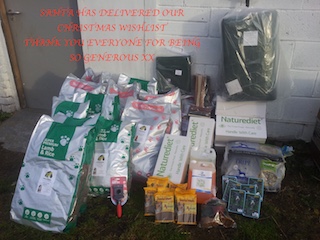 Wishlist Goodies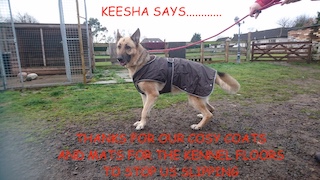 WISHLIST THANK YOU
To everyone who has contributed to our Amazon wish list this year Keesha would like to model the goods and say a big thank you.
We have two wish lists (for food and treats and gas for our heater)
http://www.german-shepherd-rescue-scotland.org.uk/.../product...
For other bits n bobs (vet bed, dog coats,ect)
https://www.amazon.co.uk/.../9UB4SQL.../ref=nav_wishlist_lists_1
Thank you for your generosity
Several Adopters and Volunteers have refused to let us pay for things over the past few months and told us to "put it towards the dogs" so here is an extra boost to our food supply from all you generous folks - you know who you are!
Thanks for your support The rehoming Team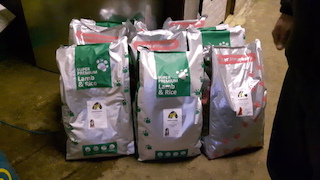 Thank You Mrs Quinn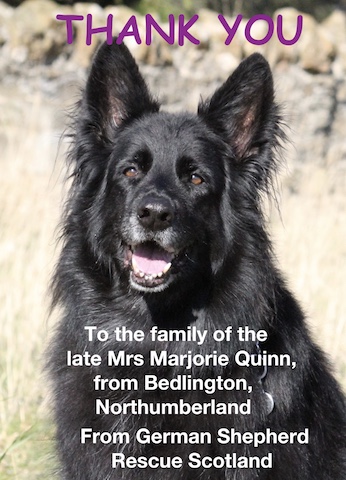 GSRS would like to say a massive Thank you to the family of The Late Mrs Marjorie Quinn, from Bedlington, Northumberland, who have recently sent us a donation from the Estate of Mrs Quinn.
This is really very much appreciated from everyone at the rescue and will go a long way towards keeping our dogs warm and fed and vet checked, over the winter months.
Diesel Our very own Hero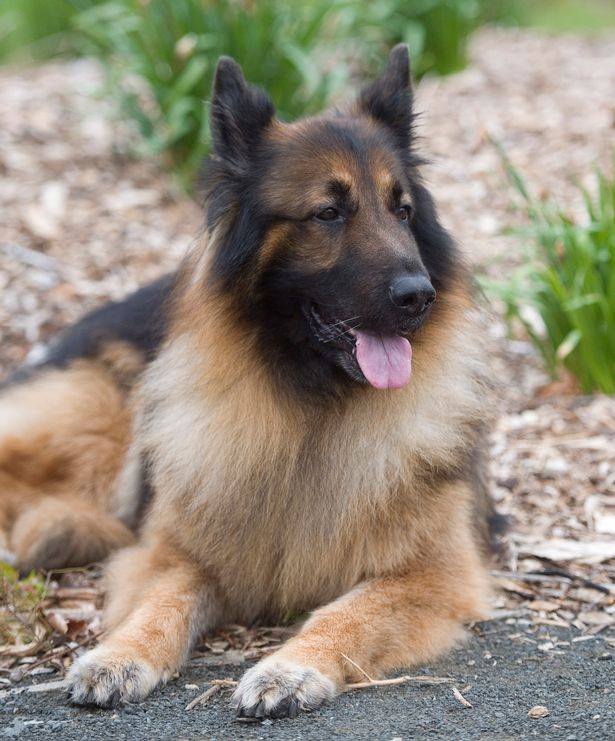 Everyone Meet Diesel - Diesel is one of our success story dogs - And a bit of a celebrity! Awarded with a PDSA Commendation for Animal Devotion. Diesel has even been on STV and appeared in several news papers
From PDSA "In March this year your wrote to us nominating Diesel for an animal award in recognition of how he supported you when you had a bad fall and how he stayed with you, even in the ambulance and on arrival at the hospital. I am also delighted to hear he is a canine blood donor - he sounds like a very special dog.
I am extremely pleased to confirm that we have awarded Diesel a PDSA Commendation for animal devotion. He joins an illustrious list of animals whose remarkable actions have undoubtedly saved or enriched the lives of their companions"
And here is what Diesel has to say
"When I first met my new Mum & Dad I was in kennels having been rescued by the GSDS. My new home is so good. I can do anything and everything. Dad plays with me when he gets in from work and Mum is with me all day, going for walks and shopping in the car. My Mum had a bad accident after having me for two days and I knew I had to make sure she was ok. Mum said I was very brave but she would do the same for me. I have been on lots of lovely holidays in the Highlands, not too sure what that is but it was great. New places to go, lots of hills to climb and lochs to paddle in. My Dad paddled in the loch with me as I was a wee bit scared but Dad gave me a cuddle and said it would be ok. I like water now. I also give blood now to save poorly dogs. I don't mind. I get a goody bag every time I go so its worth it. I have lots of toys and squeeky toys and I'm very happy now. Mum & Dad say they love me every day and I love them back. Thank you GSR for finding my new Mum & Dad."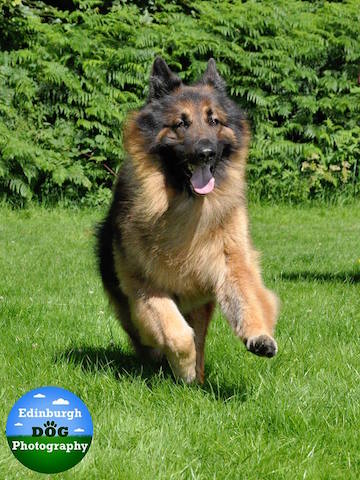 Tracking Rally Fundraiser 2016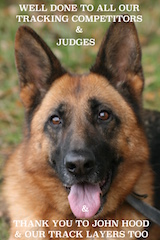 Over for another year - Another successful fundraising tracking event which was held over Saturday and Sunday this weekend. And the weather couldn't have been kinder to us.
We just want to express our thanks to John Hood for putting the event together (with a little help from his glamorous assistant - who wants to remain nameless lol)
Massive Thank You to Sandra & Shirley for giving up their days to judge for us, we certainly couldn't have done it with out you. And of course your track layers, Nick, Sandra and John. Great effort guys and girls.
Big thank you also goes out to all our entrants and their dogs. We hope you had a great time and will come back again next year. Congratulations to all the rosette winners. Please post photos of your dogs with their rosettes, we would love to see them on here.
2016 FUN DOG SHOW RESULT
Our 2016 fun dog show is over for another year and we made a fantastic £6047. This will help us keep our kennel dogs safe and happy until they find their forever homes.
We have many people to thank for making yesterday such a success (including the weather man!).......
We could not have done the show without our amazing and dedicated Volunteers and helpers, who set up the show, stood at stalls, helped people enter classes, ran our activity areas, did demos, and helped round the show.
Thanks to all of our judges and their helpers who probably had the toughest jobs yesterday picking the winners, not an easy task!
Thanks to Cheryl at Edinburgh Dog Photography for giving up her day to come along and take special portraits of peoples dogs to raise money for us. Looking forward to seeing them!
Thanks to our class sponsors, everyone who donated prizes to our raffle and tombolas, to all the home bakers out there who brought goodies, to Salt n Peppa catering for keeping everyone well fed and Billy with his Ice cream van for keeping everyone cool.
To the people who donated wonderful trophies and prizes for your specially dedication classes, a lovely way to remember your dogs.
And most of all to everyone who came along with their dogs and families to support our event, we couldn't have done it with out you all.
MASSIVE THANK YOU x
More Articles...