Latest News
First of all we would like to say a big thank you to all of our volunteers for their continued support and take this opportunity to welcome all of our new volunteers.
Need a Security System? Help GSRS
EMRES Secutiry Systems based in Lanarkshire fit alarms, CCTV and other security measures. They are offering a donation to GSRS to anyone who mentions us when ordering an alarm system through them.
Have a look at their website and dont forget to metion us if you make an order
Fundraising Thank You
One of our recently rehomed dog's Diesel and his dad William Patterson organised a fundraising trial at the weekend to raise money for GSRS. A big thank you to William and the East Neuk Wobblers Trials Club for raising a massive £400.
Great to see Diesel doing the tyre pressure checks!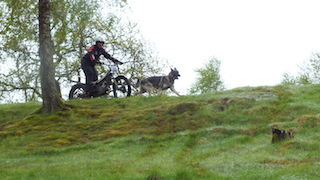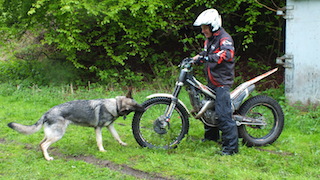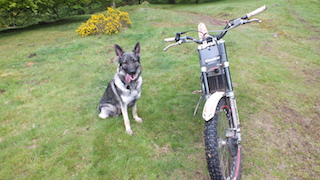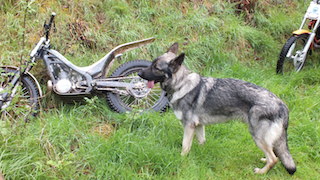 PHOTOSHOOT FUNDRAISER
A MASSIVE THANK YOU to Claire Martin for organising a group walk and photo shoot to raise funds for us today with the 'German Shepherd Lovers West Lothian' group and Nadia from Yellow Dog Photography
http://www.yellowdogphotography.co.uk
https://www.facebook.com/yellowdog8?fref=ts
They raised a fantastic £150 for us and it looks like they had a great day. Looking forward to seeing the photo results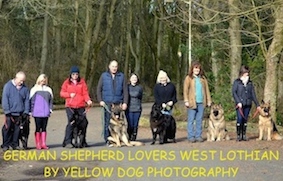 GSRS dog Diesel raises £400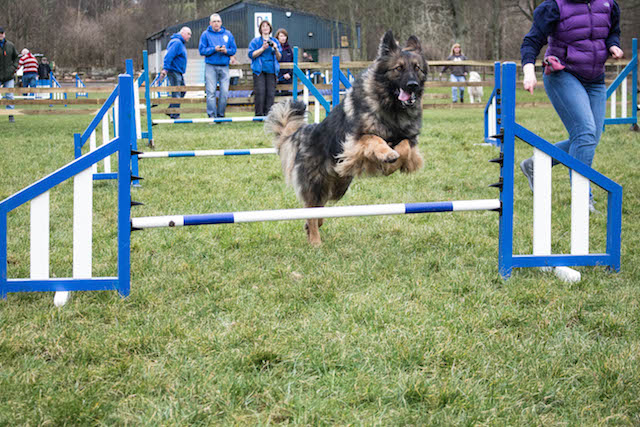 Rescue Boy Diesel and Volunteer Gail rasied £400 for our funding crisis at the weekend when they did a sponsored jump against the clock. Diesel managed to complete 37 jumps in just 60 seconds with Gail by his side.
A special mention also goes to all the volunteers from Angus Dog Activity Club who helped Gail make the day possible by giving up their time and equipment and supporting Diesel. Thank you to all of you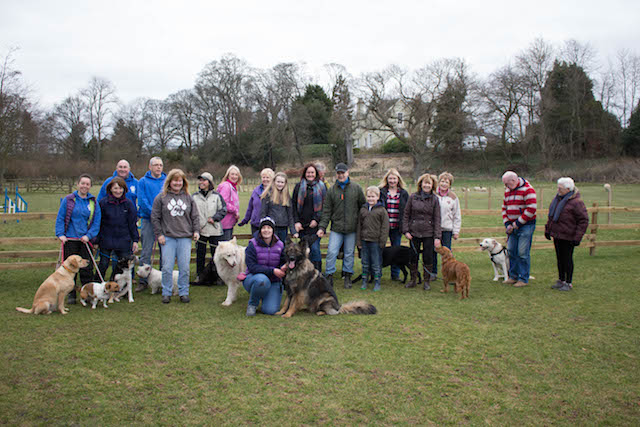 JANUARY SALE
Our Calanders and recipe books are in our sale. Head to our shop and grab a bargain.
http://www.german-shepherd-rescue-scotland.org.uk/shop/categories.php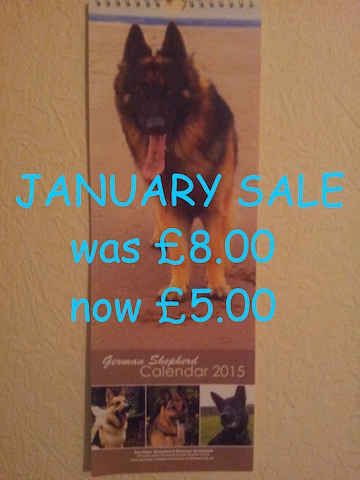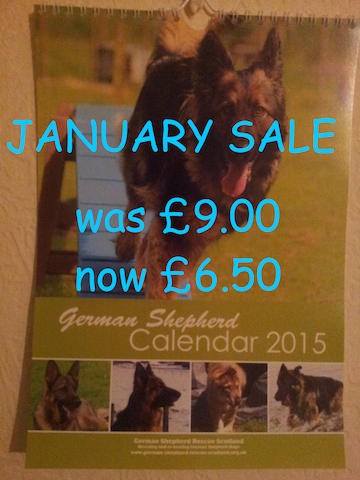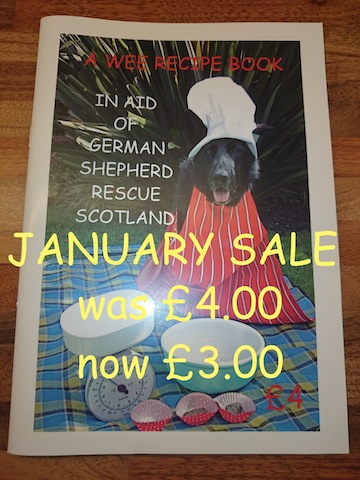 AMAZING RESULT
Amanda and Rachel completed the Glasgow half marathon at the weekend in a fantastic time of 2 hours and 10 minutes - great effort girls.
They were running in aid of GSRS and have raised an amazing £610. We can't thank them enough.
Here they are with their own dogs at the end of the race.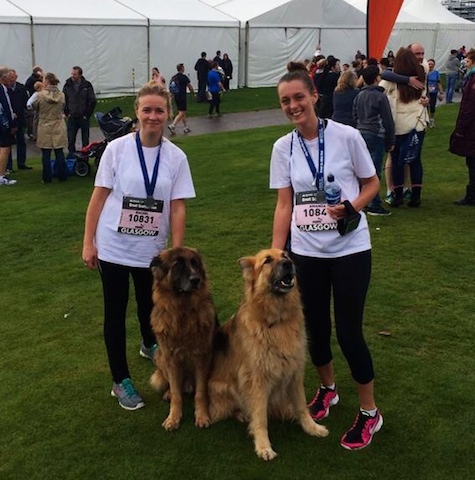 Thank you Holly's Hugs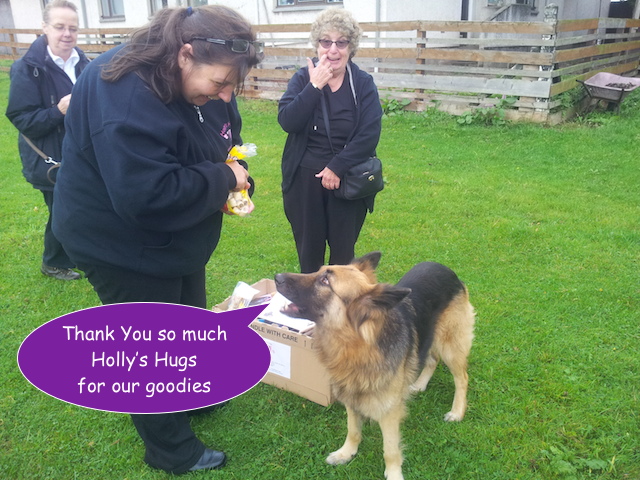 German Shepherd Rescue Scotland would like to say a huge thank you to the Holly's Hugs who visited the rescue dogs in our kennels today with an amazing box of goodies for the dogs
Cleo loving her new Kong toy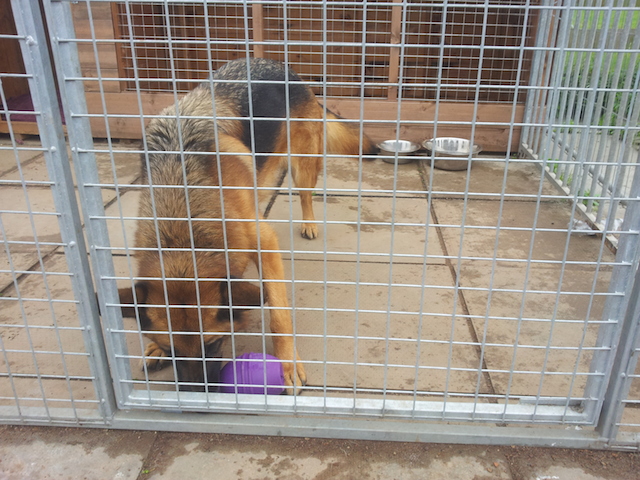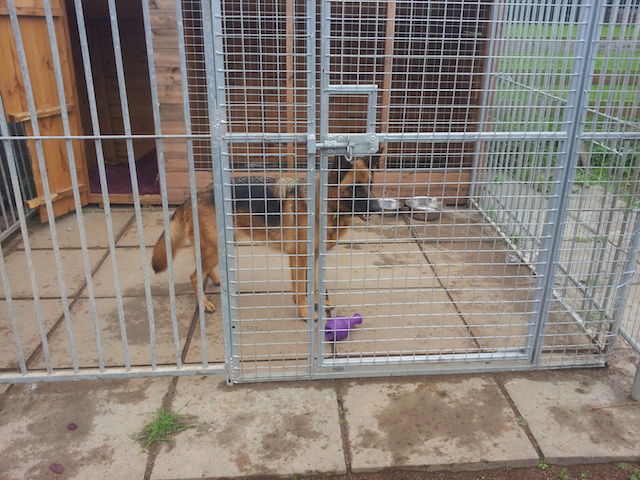 new girl Kira getting her sweetie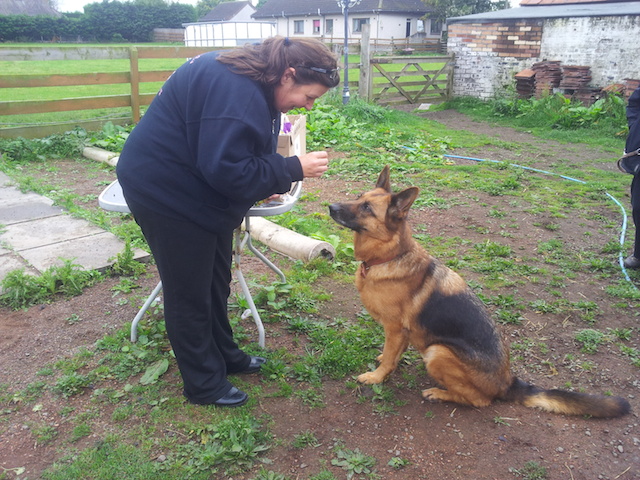 Lilly saying Thank you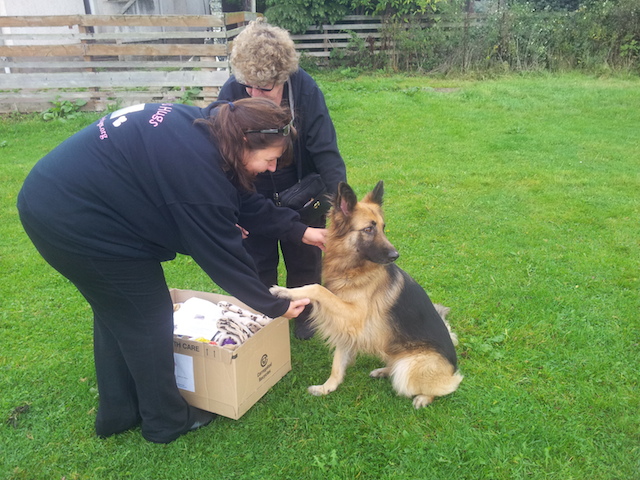 AMAZING RESULT AT OUR 2014 FUNDOG SHOW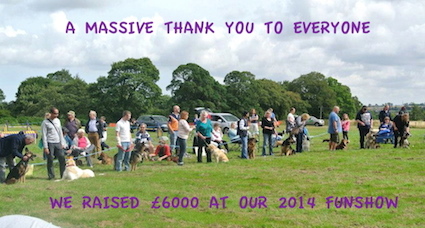 As you can see the monies raised at this years fundog show was fantastic. £6000 will help us hugely with the kennel bills, vet fees and feeding of our kennel and foster dogs.
We would like to like to take this opportunity to say thank you so much to all of our volunteers, friends, family and helpers who helped us out on the day of the show, the day could not have gone ahead without you - you were all amazing.
We also want to say thank you to the volunteers who couldnt manage on the day but sponsored classed, collected and sent us goodies for the tombola and some great raffle prizes. Both the Raffle and Tombolas were a big hit with our visitors and made us lots of money on the day.
A special thank you to the following people & Companies who sponsored the classes on the day. This sponsorship really helps boost our show fundraising every year.
BIG DAWG CUSTOMS - FI STEWART - LOSIRADREAM GSD - FERGUSONS PET SUPPLIES - ANIMAC VETS - BOBBIE & MARK HEBENTON - IAN BUTT VETS - WMH MATERIAL HANDLING - SHEILA MCNEILL & HER DOGS - PAULA CHAPMAN
And our show sponsors - Michael & Elaine Campbell - Gail Williamson & Derek Adamson - Lux & Stuart Anderson & GSD Scout - Debbie & Norrie Ritchie
Our thanks also extends to Pat Higgins and the Fast n Furious agility helpers who ran the pay on the day agility and to Debbie & Norrie Ritchie for running the gundog scurry (a new event for our show).
The list is endless but the result is remarkable.
THANK YOU ALL FROM THE GSRS TEAM
In memory of Harry 2005-2014
Harrys family have just walked the West Highland Way to raise funds for German Shepherd Rescue Scotland in Harrys memory. What a lovely tribute to a very lucky and special boy.
Here's what they said about him:
Harry was rescued in glasgow he was left tied to a lamp post and terrified, I was so glad he came to us , what a wonderful bug he turned out to be, he had more empathy than any person I have known he saved my life twice whenI had my strokes by keeping me awake he was also brilliant with my grand children and knew when my grand daughter was i'll with duplex kidney infections, he knew how to get his piont across-you just had to listen. Sadly when his back legs went we couldn't save him we tried all we could to no avail. This is in memory of our handsome, clever, funny, caring boy, the very special Harry.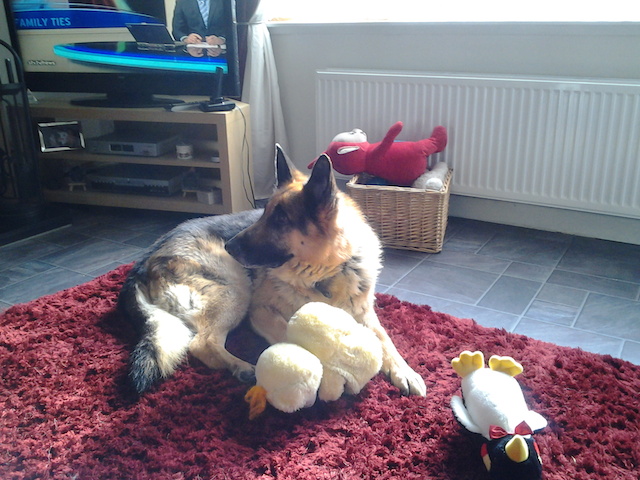 Well done girls
A huge well done and thank you goes to Marion, Sandra, Caroline, Gerda, Dorothy and the dogs for their recent sponsored walk. They rasied an amazing £500 for GSRS. Here are some photos from the day of fun that they had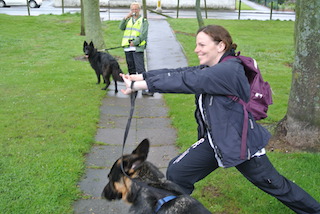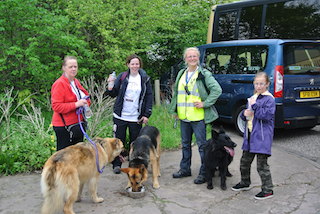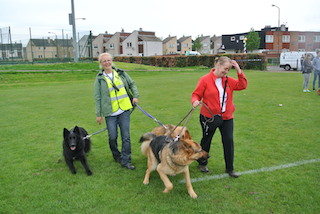 And the pipe band that piped them home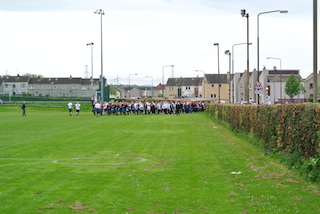 Author Lyndon Stacey supports us
We would like to thank Author Lyndon Stacey for her support. Lyndon is pictured here wearing her fantastic GSRS hoody along with her gorgeous girl Shia.
Lyndon writes a fantasic collection of crime books, the "Daniel Wheelan" series about an ex police dog handler and his GSD and their adventures after life in the police. A great read and super to know that Lyndon is a supporter of ours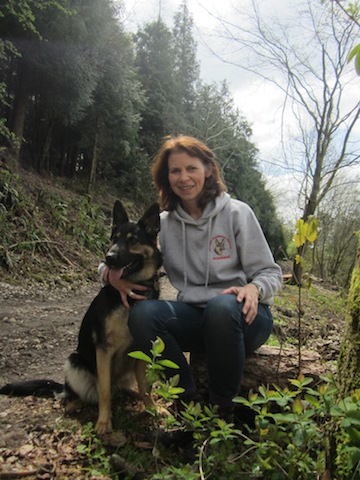 THANK YOU JUST DOGS
We would like to say thank you to the staff and customers at the Just Dogs Shop in Stockbridge, Edinburgh for a fantastic collection of toys, food and treats for our kennel dogs.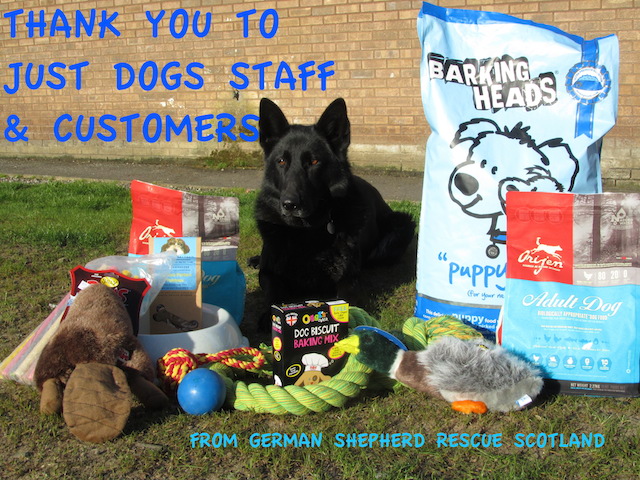 Well done Laura
Way to go Laura Smeaton for running the Inverness Half Marathon and raising £427.38 so far for German Shepherd Rescue Scotland. Amazing result Laura, Thank you so much.
Lauras dogs were waiting at the end to pose with her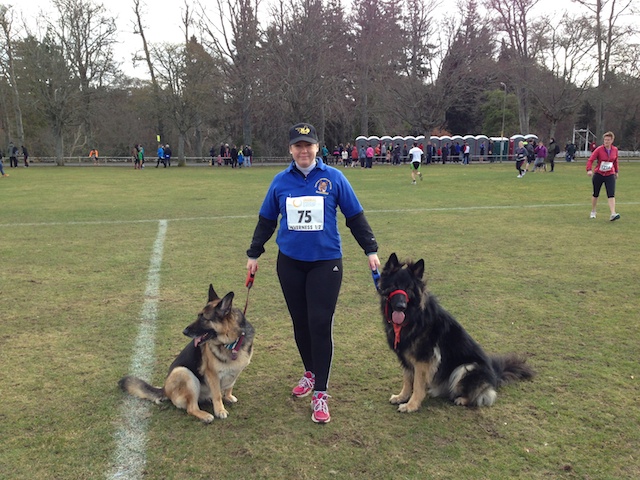 Thank Yous
We would like to thank Midlothian Dog training club for their recent charity fund-raising donation of £200 which was grateful received by Dorothy and Caroline last week.
We would also like to thank The Rotary Club of Cupar for their donation of £500 which was collected by Paul Connelly on our behalf
THANK YOU TO BOTH ORGANISATIONS FOR THINKING OF US
Fundraising Donations mean a huge amount to the rescue and help us with the kennel bills, and vet fees. If you would like to help raise money for us you could organise your own charity event.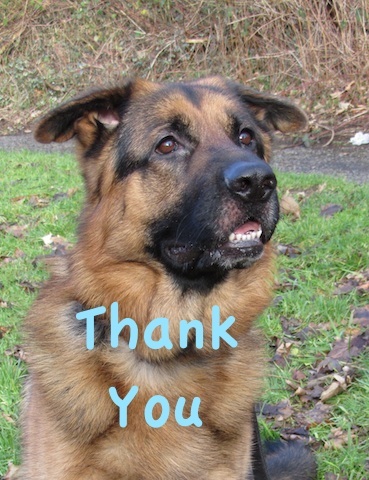 Laura is Running the Inverness Half Marathon
Laura is running the half marathon to raise funds for German Shepherd Rescue Scotland. Please show her your support by sponsoring her.
http://uk.virginmoneygiving.com/fundraiser-web/fundraiser/showFundraiserProfilePage.action?userUrl=LauraSmeaton1