Latest News
First of all we would like to say a big thank you to all of our volunteers for their continued support and take this opportunity to welcome all of our new volunteers.
Our Cosy Dogs Say Thank You
A wee message from our dogs in the kennels to say how cozy and warm they are after the amazing response for heaters for the kennels. To the donators (you know who you are) we cannot thank you enough. It makes such a difference to the dogs in these wild weathers to have a warm place to sleep, especially the oldies.
Christmas Wish List Delivery - Thank You
Cleo delighted with all the goodies that have just arrived from all you wonderful people. Can we also say thank you to Fergusons Pet Supplies who helped Santa with his delivery and will continue to do so after the New Year. Thanks girls!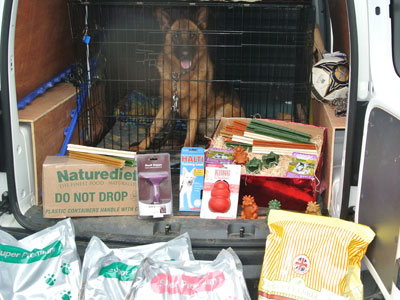 Eileen who runs our kennels would also like to say a huge THANK YOU TO EVERYONE, all these treats and Kongs help to keep the dogs occupied in their kennels. Your generosity is outstanding.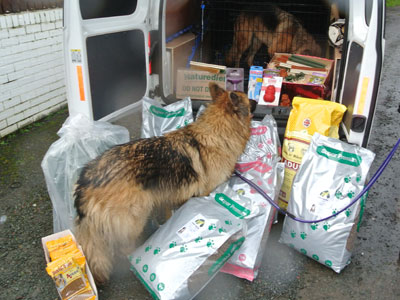 Zeus is Impressed with Wish List Delivery
Santa came early for Zeus, Cleo and their kennel buddies.
Massive thank you to all those who have contributed to our kennel dog Wish List. Check out the smile on Zeus's face when this lot was delivered. He got himself a new collar, a new lead, a fabby brush for his long hair and loads of treats which he has promised to share around.
There are lots of other dogs in the kennels who are very jealous of Zeus and Cleo's new look so help them look good for Christmas or send them a treat by visiting the Wish List.
http://www.german-shepherd-rescue-scotland.org.uk/shop/products.php?cat=20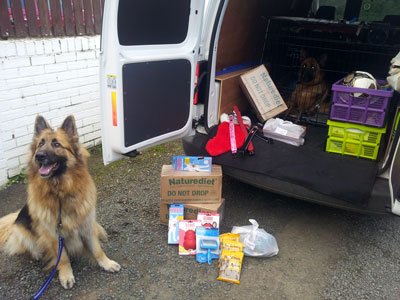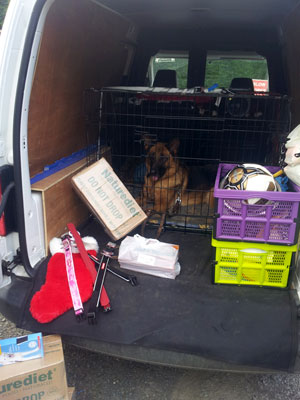 Zeus's Christmas Wish List
Zeus and his friends at the kennels have sent a Wish List to Santa for toys they would like to keep them busy, nice treats they would like, new cosy beds and a few other things too.
Please take a look, items start from as little as 90p so there is something on there that everyone can afford. Zeus and his friends will be very grateful!
http://www.german-shepherd-rescue-scotland.org.uk/shop/products.php?cat=20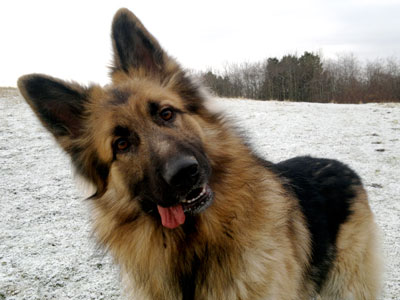 Well Done Paula and Friends!
On Saturday 28th September Paula Chapman and friends held a charity "Fitathon" of a 3 hours continuous fitness workout class based at her gym in Sand, Shetland. This raised money for three deserving charities with Paula's choice being German Shepherd Rescue Scotland. There were 10 participants, with Paula instructing and 2 'helpers' and the event was a fantastic success with all the girls involved doing really well to successfully finish the challenge.
This was followed with an excellent buffet and a very entertaining raffle with over 40 prizes which passed with much hilarity and many happy winners. With generous sponsorship and raffle ticket sales, the whole event raised £1899. This raised £633 for German Shepherd Rescue Scotland and big thanks must go to all the participants, sponsors and prize contributors and to Kay Hunter and Paula's partner Guy for their help with preparation on the day.
Paula said, "The event was fantastic and such a great buzz for everyone and the money raised was a brilliant testament to the efforts of everyone involved." We hope the money raised will help in some small way to continue the great work of German Shepherd Rescue Scotland.
Here is a picture of Paula and friends...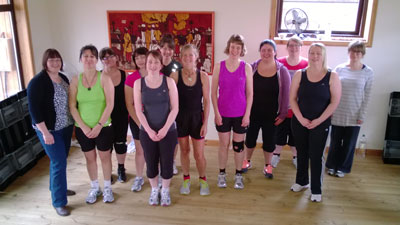 Thank You for October's Food Donations
A huge thank you to those who donated food to our rescue in the month of October. Here are the very generous donations being delivered to our kennels.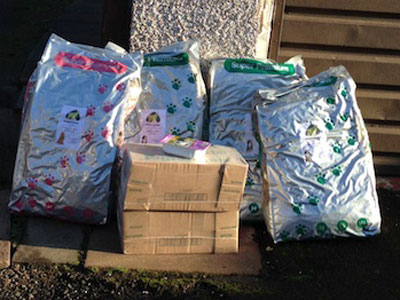 If you would like to donate food this month, or donate some items from our Wish List please visit our online store.
http://www.german-shepherd-rescue-scotland.org.uk/shop/products.php?cat=20
Thank You Edward
A huge thank you to Edward Robb who ran the Glasgow Half Marathon and raised a fantastic £162 for us.
Well done Edward! We really appreciate your support.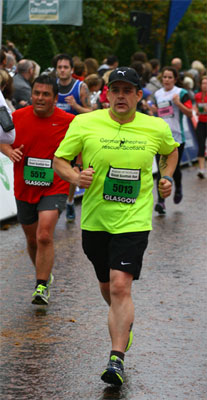 Unique Gifts from Potty Emma - Ideal for Christmas
Want to capture a personal and lasting memory of your pet? Paw imprints are a great way to capture a puppy's mark or your life long companion's print for posterity.
Potty Emma is offering a £5 donation to German Shepherd Rescue Scotland to when you order from her website. Just use the drop-down and select 'German Shepherd'.
Visit Potty Emma website www.pottyemma.co.uk
Make sure you us easyfundraising when you are Christmas Shopping!
Thank You Wolfspeak
A huge thank you to Paul Connelly of Wolfspeak and his team for the cheque for £2000. This is a fantastic amount, and as you can see our volunteers had a great time at the fun dog show.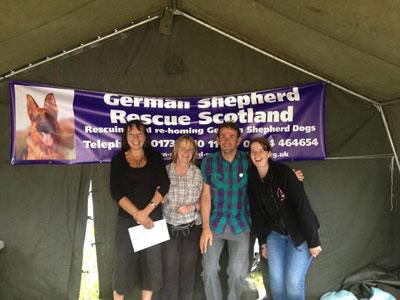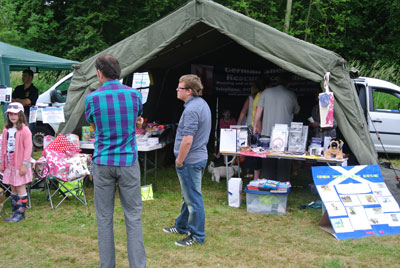 Fun Dog Show Raises Fantastic £4035
Our fun day raised an amazing £4035!! Well done to the organisers, the volunteers and everyone who came along on the day to support us. It was a great day and the weather was very kind to us, perfect conditions for the dogs.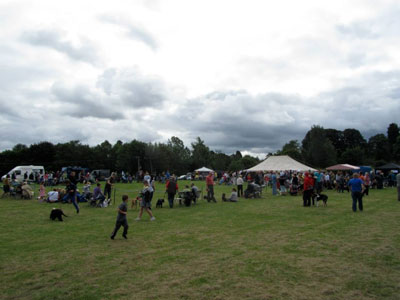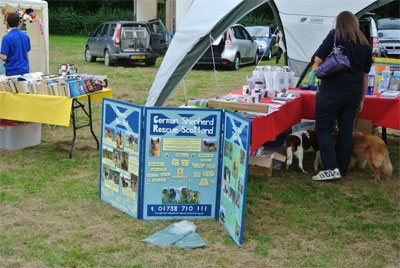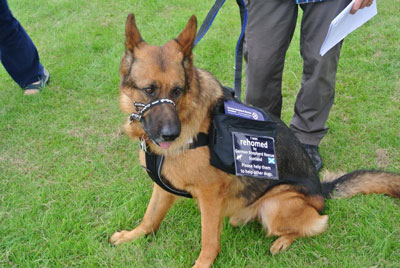 If you had pictures of your dog taken at the show you can see them here https://www.facebook.com/media/set/?set=a.504088956337332.1073741847.203253246420906&type=3
Dusty's Story
This is the beautiful Dusty who sadly went to Rainbow Bridge this week, she was suffering from CDRM. She was picked up as a stray and we found her a lovely home where her new owners took her to training classes. This is her showing off her collection of medals. She wasn't a young dog when she was adopted but she had 3 wonderful, happy years in her home.
This is an example of what a rescue dog can achieve given a chance. Please rescue.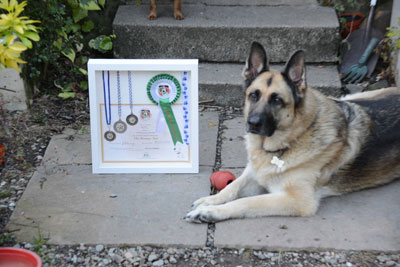 PetzPodz Donate 20% of Your Purchase to Our Rescue

'PetzPodz' is the answer to all your dogs homing needs. Recommended by vets, rescue centres and animal behaviour experts countrywide. Whether using the 'PetzPodz' for puppy training or to home an indoor pet with anxiety issues, the 'new den' really is a cool place for your dog to relax within the comfort of your family home. The 'PetzPodz' can also be used to transport pets, especially ideal for transporting the more anxious and vulnerable. The PetzPodz will keep your dog warm in the winter months and cool in the summer. A universal and highly versatile product for all small animals, including small furries, cats and dogs.
PetzPodz are made from UV stabilised plastic, they are durable, tough and come in a variety of colours including pink, purple, red,yellow green and blue. A low voltage heat mat is also available, specifically designed to suit a PetzPodz and PetzBedz.
'PetzPodz' are kindly offering a generous donation of 20% of the selling price to German Shepherd Rescue Scotland for each 'PetzPodz' product sold using the unique code of: GSRS1 at the checkout.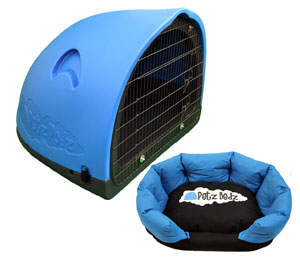 Thank You LostDogs-Scotland.org.uk
We would like to say thank you to LostDogs-Scotland.org.uk for their wonderful donation of £100.
LostDogs-Scotland.org.uk offer a wonderful service to owners who have lost their dogs or had their dogs stolen. Please check out their website www.lostdogs-scotland.org.uk.
Table Sale Success
A huge thank you to the Edinburgh team who organised the recent table sale which raised £641.50. This is a fabulous amount, it looks like it was a great day. Thank you ladies.