Latest News
First of all we would like to say a big thank you to all of our volunteers for their continued support and take this opportunity to welcome all of our new volunteers.
Well Done Paula and Friends!
On Saturday 28th September Paula Chapman and friends held a charity "Fitathon" of a 3 hours continuous fitness workout class based at her gym in Sand, Shetland. This raised money for three deserving charities with Paula's choice being German Shepherd Rescue Scotland. There were 10 participants, with Paula instructing and 2 'helpers' and the event was a fantastic success with all the girls involved doing really well to successfully finish the challenge.
This was followed with an excellent buffet and a very entertaining raffle with over 40 prizes which passed with much hilarity and many happy winners. With generous sponsorship and raffle ticket sales, the whole event raised £1899. This raised £633 for German Shepherd Rescue Scotland and big thanks must go to all the participants, sponsors and prize contributors and to Kay Hunter and Paula's partner Guy for their help with preparation on the day.
Paula said, "The event was fantastic and such a great buzz for everyone and the money raised was a brilliant testament to the efforts of everyone involved." We hope the money raised will help in some small way to continue the great work of German Shepherd Rescue Scotland.
Here is a picture of Paula and friends...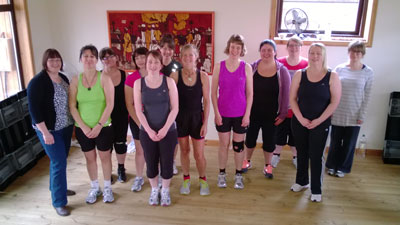 Thank You for October's Food Donations
A huge thank you to those who donated food to our rescue in the month of October. Here are the very generous donations being delivered to our kennels.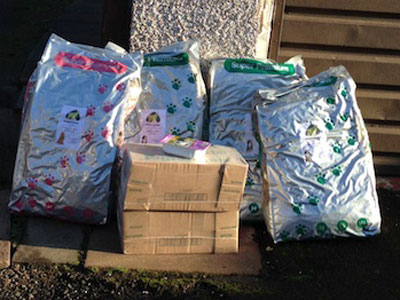 If you would like to donate food this month, or donate some items from our Wish List please visit our online store.
http://www.german-shepherd-rescue-scotland.org.uk/shop/products.php?cat=20
Thank You Edward
A huge thank you to Edward Robb who ran the Glasgow Half Marathon and raised a fantastic £162 for us.
Well done Edward! We really appreciate your support.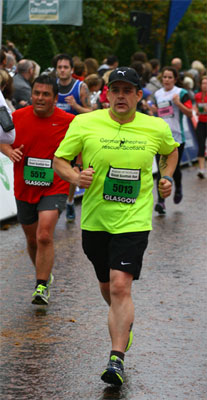 Unique Gifts from Potty Emma - Ideal for Christmas
Want to capture a personal and lasting memory of your pet? Paw imprints are a great way to capture a puppy's mark or your life long companion's print for posterity.
Potty Emma is offering a £5 donation to German Shepherd Rescue Scotland to when you order from her website. Just use the drop-down and select 'German Shepherd'.
Visit Potty Emma website www.pottyemma.co.uk
Make sure you us easyfundraising when you are Christmas Shopping!
Thank You Wolfspeak
A huge thank you to Paul Connelly of Wolfspeak and his team for the cheque for £2000. This is a fantastic amount, and as you can see our volunteers had a great time at the fun dog show.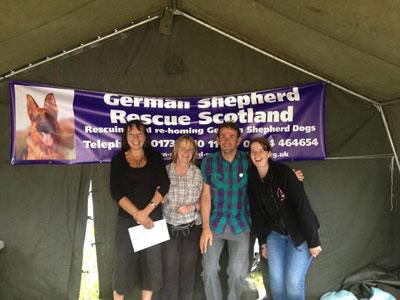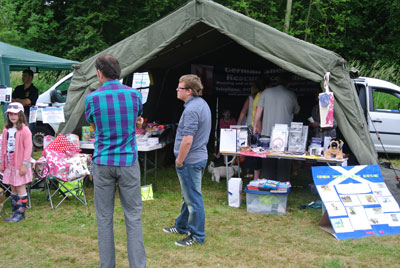 Fun Dog Show Raises Fantastic £4035
Our fun day raised an amazing £4035!! Well done to the organisers, the volunteers and everyone who came along on the day to support us. It was a great day and the weather was very kind to us, perfect conditions for the dogs.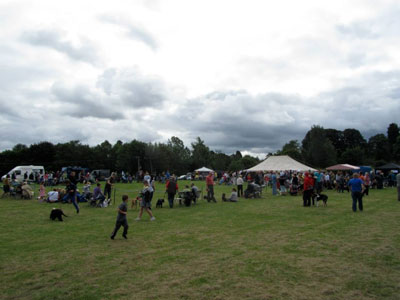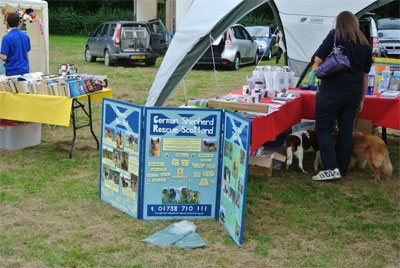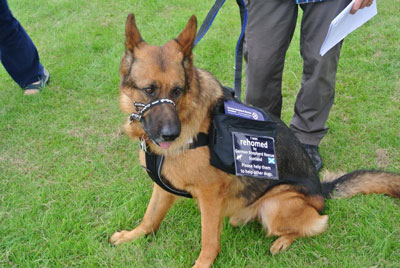 If you had pictures of your dog taken at the show you can see them here https://www.facebook.com/media/set/?set=a.504088956337332.1073741847.203253246420906&type=3
Dusty's Story
This is the beautiful Dusty who sadly went to Rainbow Bridge this week, she was suffering from CDRM. She was picked up as a stray and we found her a lovely home where her new owners took her to training classes. This is her showing off her collection of medals. She wasn't a young dog when she was adopted but she had 3 wonderful, happy years in her home.
This is an example of what a rescue dog can achieve given a chance. Please rescue.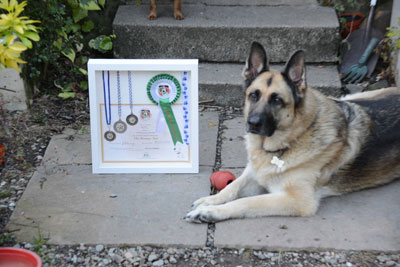 PetzPodz Donate 20% of Your Purchase to Our Rescue

'PetzPodz' is the answer to all your dogs homing needs. Recommended by vets, rescue centres and animal behaviour experts countrywide. Whether using the 'PetzPodz' for puppy training or to home an indoor pet with anxiety issues, the 'new den' really is a cool place for your dog to relax within the comfort of your family home. The 'PetzPodz' can also be used to transport pets, especially ideal for transporting the more anxious and vulnerable. The PetzPodz will keep your dog warm in the winter months and cool in the summer. A universal and highly versatile product for all small animals, including small furries, cats and dogs.
PetzPodz are made from UV stabilised plastic, they are durable, tough and come in a variety of colours including pink, purple, red,yellow green and blue. A low voltage heat mat is also available, specifically designed to suit a PetzPodz and PetzBedz.
'PetzPodz' are kindly offering a generous donation of 20% of the selling price to German Shepherd Rescue Scotland for each 'PetzPodz' product sold using the unique code of: GSRS1 at the checkout.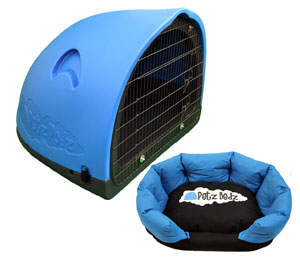 Thank You LostDogs-Scotland.org.uk
We would like to say thank you to LostDogs-Scotland.org.uk for their wonderful donation of £100.
LostDogs-Scotland.org.uk offer a wonderful service to owners who have lost their dogs or had their dogs stolen. Please check out their website www.lostdogs-scotland.org.uk.
Table Sale Success
A huge thank you to the Edinburgh team who organised the recent table sale which raised £641.50. This is a fabulous amount, it looks like it was a great day. Thank you ladies.
Giveacar - New Fundraising Scheme
Do you own a vehicle that you want to sell or get rid of? Then please think about donating it to us through Giveacar!
Giveacar raises money for UK charities by scrapping and selling old cars. They provide a nationwide FREE service which:
Arranges the collection of the vehicle from your home.
Depending on its age and condition, recycles it at an authorised facility or sends it to auction.
Scrap donations raise about £35 for the charity (depending on the price of metal) while auction cars can raise much more.
To arrange donation of a car, visit www.giveacar.co.uk or call 020 7736 4242, quoting German Shepherd Rescue Scotland as your preferred charity.
Giveacar can pick up any vehicle anywhere in the UK!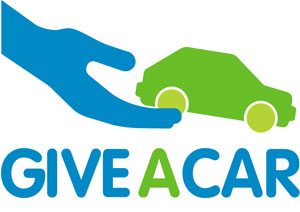 New Enzyme Source for EPI Dogs
EPI can be an expensive condition to manage but owners will be pleased to know that we have a new enzyme source in the UK. Chemeyes is a family run business, they developed their own cost effective combination of the 3 major enzymes after their own dog was diagnosed with EPI.
They also have a a range of additional products to maintain your pet's health including prebiotics for digestive health and immunity, Vitamin B12 with Intrinsic Factor a supplement often required by EPI dogs, Glucosamine for joint health and Coconut Oil for overall health and a shiny sweet smelling coat.
Please visit their website www.chemeyes.co.uk or click to buy directly from our website.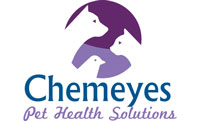 Thank You Pets at Home
We would like to say a huge thank you to Pets at Home for their recent donation of £6000. Here is Buster collecting the cheque on behalf of German Shepherd Rescue Scotland.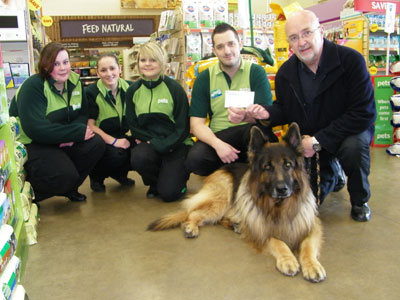 Yellow Dog Campaign
Please help create awareness of the Yellow Ribbon campaign.
What Is Yellow Dog UK?
The Yellow Dog Project was created to bring awareness to dogs who need space while training, recovering from surgery, or being rehabilitated.
Yellow Dog - Some dogs need space
If you see a dog with a YELLOW ribbon, bandanna or similar on the leash or on the dog, this is a dog which needs some space. Please, do not approach this dog or its people with your dog. They are indicating that their dog cannot be close to other dogs. How close is too close? Only the dog or his people know, so maintain distance and give them time to move out of your way.
Why might a dog need space?
There are many reasons why a dog may need space:
Maybe it has health issues.
It may be a rescue dog being rehabilitated. The world can be a very scary place for these dogs.
It may have had a bad experience with another dog or is just not like the kind of friendly dogs which always want to say 'Hi!'.
A bitch may be in heat.
The dog may be in training.
It may be very old and arthritic.
It may be very nervous or shy and other dogs cause it stress.
In short, a yellow marker on a dog means it needs a some space.
We would greatly appreciate your help in spreading the word! Please visit the website for more information and to print a poster for your vet surgery or training club.