Murphy's Hip Replacement
We bought Murphy in August 2002 at 8 weeks old and by January 2003 he still hadn't cocked his leg when he was having a pee. I thought it was strange as my other dog started cocking his leg when he was very young but thought no more of it.
When Murphy slipped on some ice at the park and started howling I thought he'd broken something but he got up and kept on walking. After that he quickly got worse. He would lie down after being out for a walk and howl when he couldn't move or get up and I would get woken up in the middle of the night with him crying because he was stuck under the bed on his back after trying to roll over.
When I took him to the vet in May 2003 she booked him in for x-rays to be taken and advised me to insure him before then as she suspected the worst. Sure enough the x-rays showed that his hips were horrendous and I was told that he would probably have to be put to sleep within a year. I was extremely upset and asked if nothing else could be done for him. The vet sent the x-rays to specialist to examine. His diagnosis was "bilateral moderate/severe hip dysplasia with secondary degenerative changes" with the best option for Murphy being a total hip replacement. So in July 2003 we took him for his first consultation with the specialist where he had more x-rays and was booked in for surgery. The consultation alone cost over £200. In August, a year after we got him, he had the operation and all went well. Luckily Murphy's insurance paid the £3000 bill.
His recovery took a long time. For weeks he had to avoid stairs, slippy floors and was only allowed out to the toilet on the lead then straight back in. After a few months his exercise was gradually built up, he kept improving and even began to cock his leg. On his follow up visit to the vet x-rays were taken again to make sure all was well and fortunately everything was.
Murphy is now 6 and has had no further problems with his hips thanks to the specialist John and his staff.
By Nadine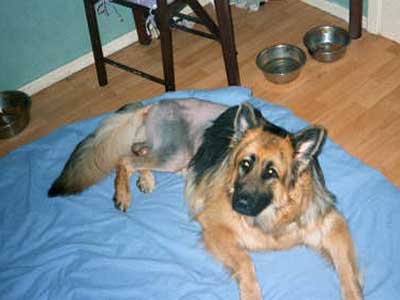 Murphy just after his hip replacement operation.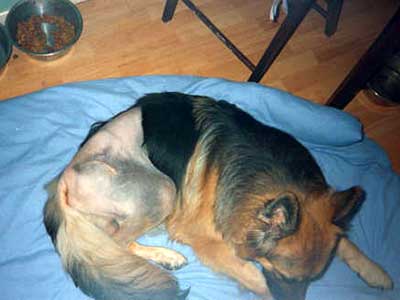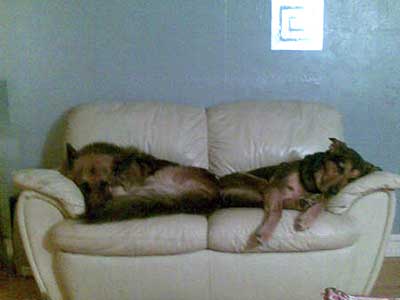 Murphy now aged 6 with his best friend Bruno.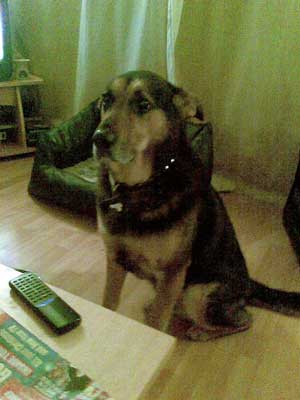 Bruno is a 12 year old GSD Cross.
We think Murphy's family are an inspiration. Nadine was pregnant and gave birth to her son at the same time as Murphy was going through his treatment, but she didn't give up on him, she still gave him all the care and love he needed to help him recover.