German Shepherd Rescue Scotland
Welcome to the website of German Shepherd Rescue Scotland. Whether you have decided to adopt a German Shepherd, re-home your German Shepherd or you would like to become a volunteer, we hope you enjoy browsing our site.
We have included some helpful information and advice, as well as a gallery of beautiful German Shepherds, most of them rescue dogs. If there is something you would like to see included on the site please get in touch, we would love to hear from you.
The website is regularly updated, so please keep checking back.
Vets4pets Airdire Collection
Vets4Pets Airdrie are currently collecting food, treats, blankets, toys, and other goodies all for GSRS. If you would like to donate to this collection you can hand in your gift to Vets4Pets Airdrie, 60 Clark Street, Airdrie, ML6 6DW
Thanks to all the staff at Vets4pets for thinking of us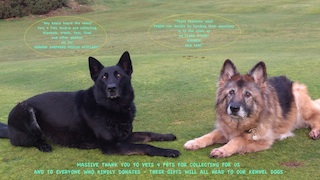 2014 show date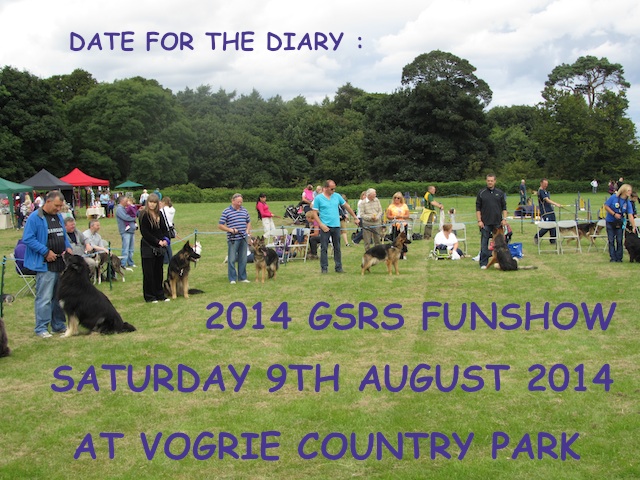 Laura is Running the Inverness Half Marathon
Laura is running the half marathon to raise funds for German Shepherd Rescue Scotland. Please show her your support by sponsoring her.
http://uk.virginmoneygiving.com/fundraiser-web/fundraiser/showFundraiserProfilePage.action?userUrl=LauraSmeaton1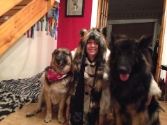 Our Cosy Dogs Say Thank You
A wee message from our dogs in the kennels to say how cozy and warm they are after the amazing response for heaters for the kennels. To the donators (you know who you are) we cannot thank you enough. It makes such a difference to the dogs in these wild weathers to have a warm place to sleep, especially the oldies.
Christmas Wish List Delivery - Thank You
Cleo delighted with all the goodies that have just arrived from all you wonderful people. Can we also say thank you to Fergusons Pet Supplies who helped Santa with his delivery and will continue to do so after the New Year. Thanks girls!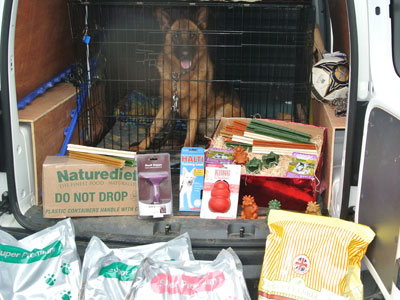 Eileen who runs our kennels would also like to say a huge THANK YOU TO EVERYONE, all these treats and Kongs help to keep the dogs occupied in their kennels. Your generosity is outstanding.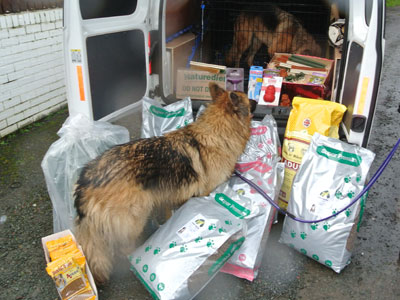 Feed a Rescue Dog - Donate a Bag of Dog Food
A HUGE THANK YOU TO EVERYONE WHO HAS DONATED FOOD FOR YOUR DOGS
You too can help by donating a bag of dog food. German Shepherd Rescue Scotland has teamed up with Ferguson's Pet Supplies (www.fergusonspetsupplies.co.uk) so that our supporters can purchase dog food to be sent directly to our kennels.
Feeding our dogs is one of the biggest costs of running the rescue so every donation of food helps a great deal. We have selected some foods we know our dogs like, all you have to do choose one of the options. It's really easy!
You make your purchase on our website, Ferguson's Pet Supplies receives the order and delivers the food directly to our kennels.
Click here to support our dogs.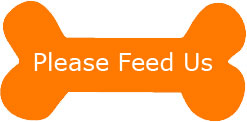 German Shepherd Rescue Scotland has a 'NO KILL' policy but we need your help to keep these dogs safe.
If you visit our site and like the work we do please consider donating. If every visitor donated even just £1 it would help us continue our work.
Don't forget to Gift Aid your donation if you are a UK tax payer. A big thank you to everyone who has donated.
| | |
| --- | --- |
| Supported by Burns | Supported by Pets at Home |