German Shepherd Rescue Scotland
Welcome to the website of German Shepherd Rescue Scotland. Whether you have decided to adopt a German Shepherd, re-home your German Shepherd or you would like to become a volunteer, we hope you enjoy browsing our site.
We have included some helpful information and advice, as well as a gallery of beautiful German Shepherds, most of them rescue dogs. If there is something you would like to see included on the site please get in touch, we would love to hear from you.
The website is regularly updated, so please keep checking back.
2018 Fun dog show date announced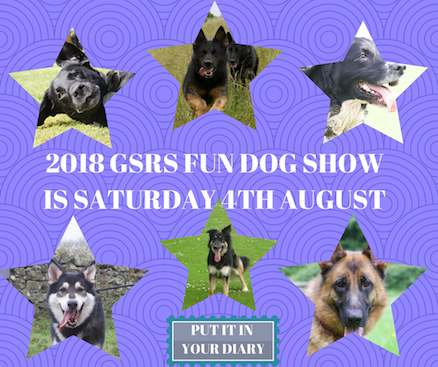 THE date of 2018 for your diary!
Saturday 4th August 2018, at Vorgrie Country Park, Midlothian, EH23 4NU.
Slimline 2018 calendars still available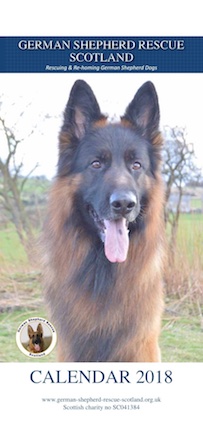 SLIMLINE calendars still available on our website for those who haven't got a 2018 calendar yet. All profits come direct to rescue.
http://www.german-shepherd-rescue-scotland.org.uk/shop/products.php?cat=14
Happy Newyear for 2018
Happy Newyear for 2018 to each and every one of our Volunteers and supporters.
Lets hope 2018 is a great year for our dogs in rescue.
Thanks for all your hard work and donations this year we could not have done it without you.
Best wishes the GSRS Team x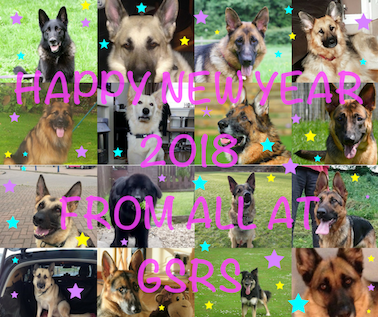 December's wish list delivery
Santa's elves arrived at the kennels yesterday with all the goodies that everyone has kindly donated from our 2 wishlists. New boy Zeus came out to see all the fantastic treats he will be getting over the Christmas holidays to make his stay in kennels more enjoyable.
Thank You to everyone who donated this year, we were overwhelmed at those that donated gas vouchers, this will make such a difference to our fuel bill this winter.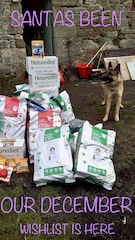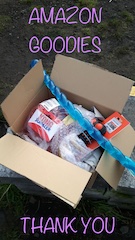 Christmas Thank You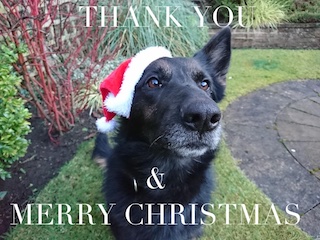 We have had an amazing amount of goodies donated to us this Christmas, our donations to our wishlist especially gas vouchers has just been fantastic. It will keep our dogs cozy this winter and our bills down which is brilliant.
We have had many items handed in for our dogs, blankets, toys, food and treats. And several donations to help us through during a tough time where we don't rehome our dogs. We truly are grateful to each and every one of your for thinking of us and our dogs.
Wishing all our volunteers and supporters and Merry Christmas and a Happy New Year for 2018.
GSRS Team and the dogs x
Dog Wheels for hire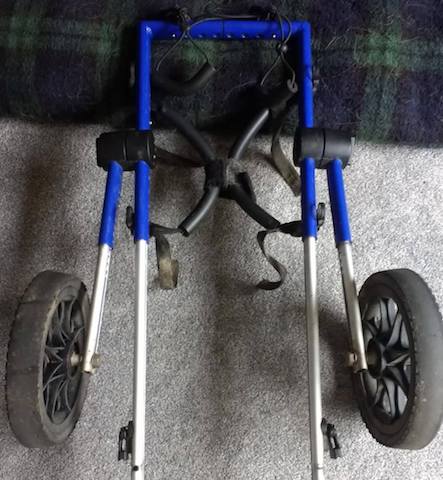 We have recently been generously donated 4 sets of dog wheels (from various people) which we have decided will be hired out to anyone in Scotland who has a dog in need of them. (CDRM, paralysis of rear legs, missing a rear leg or other similar type conditions would all benefit) All of these wheels have been used by GSD sized dogs.
Please contact us using the contact link above if you feel your dog would benefit from borrowing these wheels. We are asking for a small donation along with a deposit for the wheels (returned when the wheels are returned to us). There is no time limit on the length of time your dog can use the wheels.
They will be hired out on a first come first serve basis.
Thank you to each one of our donators, we really hope this service will go a long way to helping other dogs gain their independence again without the massive expense of the owner having to buy wheels.
Hirer must arrange collection and return (we will try to help where we can)
Thank you to German Shepherd Family UK
A huge thank you goes to Carrie Eyre and the supporters of her Facebook group 'German Shepherd Family UK' for donating £500 to us from the sale of 2018 calendars. This is a fantastic boost for us at a time of year when monies become a little more difficult in rescue.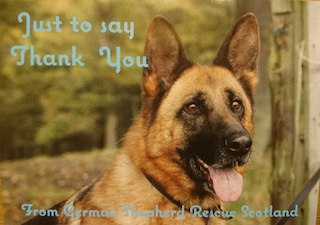 2018 calendars
Don't forget to buy your 2018 rescue calendar from our website shop
http://www.german-shepherd-rescue-scotland.org.uk/shop/products.php?cat=14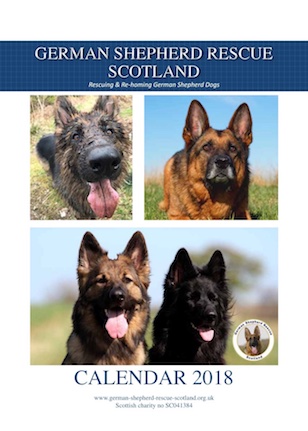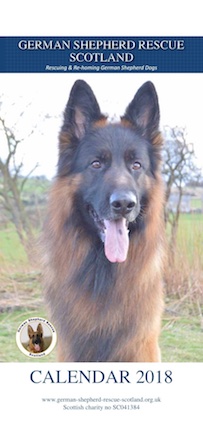 Competition winning magnets now for sale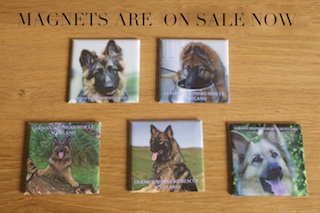 The winning photo magnets have now arrived in our online shop to purchase. You can find them here
http://www.german-shepherd-rescue-scotland.org.uk/shop/products.php?cat=10
GSD Gift ideas........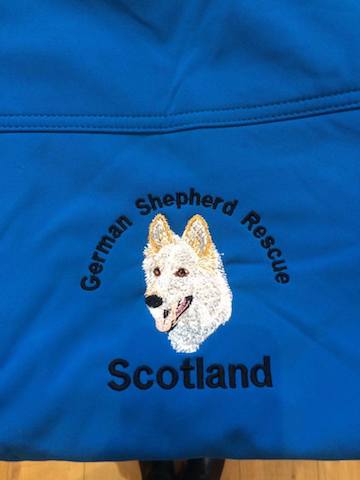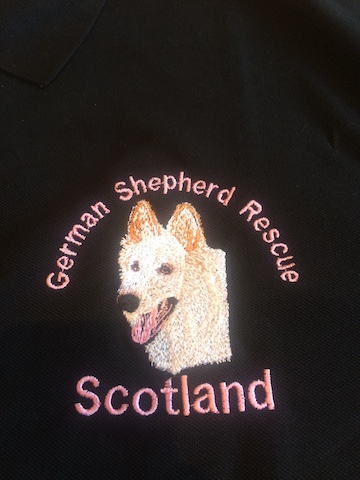 Our merchandise would make a fantastic gift for any GSD lover, with the added bonus of doing your bit for charity.

Choose any one of the designs and any colour of writing from our selection. There are a wide range of items to choose from.
Pop to our shop to order now. Items take up to two weeks to produce as each one is made to order.
http://www.german-shepherd-rescue-scotland.org.uk/.../index.p...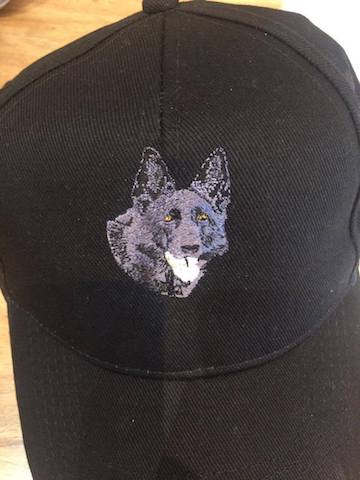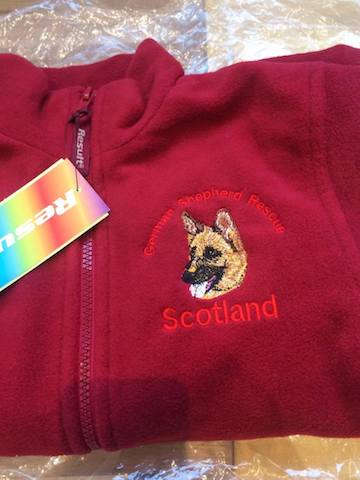 Easyfundraising won't cost you a penny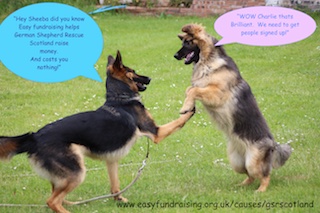 Helping us raise money doesn't have to cost you a penny. If you use internet shopping sites you can earn money for us through easy fundraising. You just have to sign up (and login every time you shop online)
Next, amazon, tesco, john lewis, O2, Sainsbury's, Halfords, Pets at home, zoo plus, Waitrose, Asda, Debenhams and many more will all donate to us when you shop.
Christmas shopping is coming up so what a great time to support is just follow this link
https://www.easyfundraising.org.uk/causes/gsrscotland/
New Embroidered Clothing available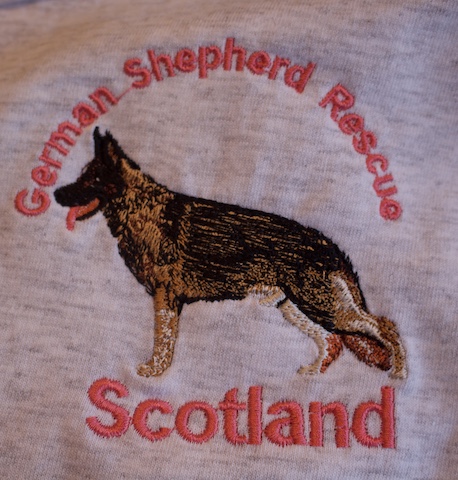 We now have a new range of embroidered clothing available in our shop.
http://www.german-shepherd-rescue-scotland.org.uk/shop/index.php
OUR WISHLISTS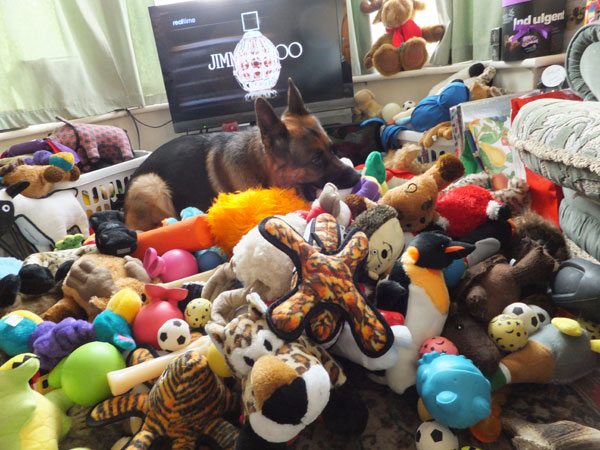 Our wishlists let you donate things for our kennel dogs that we really need help with buying. The items get delivered directly to the kennels.
This year we have two wish lists, our regular one where you can help us by donating food, treats, leads and toys and a new addition of a bottle of Calor gas for our kennel heater to keep the dogs cozy. These items you can find here:
http://www.german-shepherd-rescue-scotland.org.uk/.../product...
And our new Amazon wishlist which is things that we cant get from our pet shop, but are things that would really help at the kennels. From cozy vet bed, water proof jackets, to food storage bins to stop us feeding the local field mice. These items can be found here:
https://www.amazon.co.uk/registry/wishlist/9UB4SQLQ4JSV
Thanks in advance for everyones support. Please help us by sharing this post. All purchases will be sent directly to our kennels.
Volunteers & Foster homes needed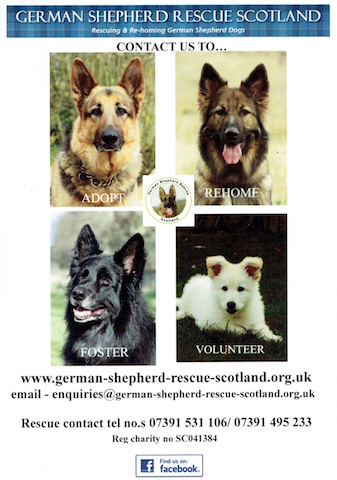 We need new volunteers with GSD experience to help us with our home checks, dog assessments, transporting dogs and fostering. If you think you can help us then please complete an adoption form and after your name add either (Foster) or (Volunteer).
Your kids need to be over 10, your dogs need to be dog friendly, your garden needs to be secure, and we dont home our dogs with cats (due to the stress it adds to a rescue).
Don't rule out an oldie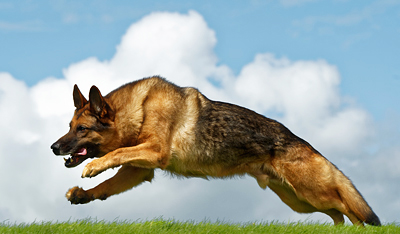 If ever there was an advert for taking on an older dog is this boy.......Meet Buck. Buck has just turned 11 and these are his birthday photos
Buck came into our rescue 4 years ago as a 7 year old. He was extremely over weight (about 55kg) had very long nails as he wasn't getting out of the garden as he was too strong for his owner.
He was assessed by us and found him to be such a friendly boy who could easily live with another dog.
Bucks new owners took him on without even questioning his age. So long as their little girl Skye approved of him! And she did. Buck has not looked back since.
The biggest challenge was to get his weight down and his fitness up. The ultimate challenge - to climb a Munro! And boy did he do just that. Buck is an amazing example of the breed, and we wanted to highlight just how rewarding taking on an older dog can be.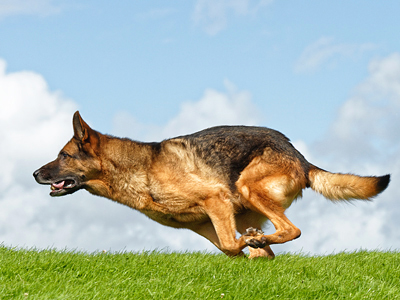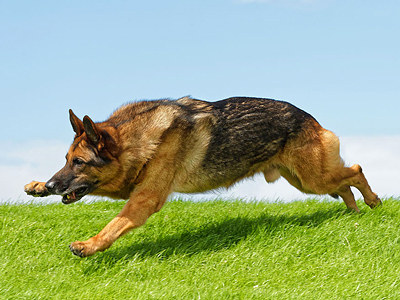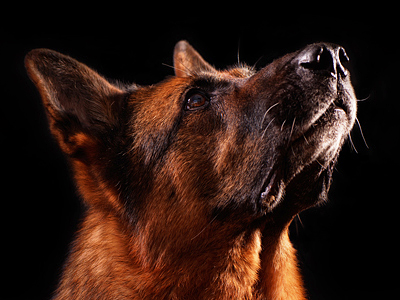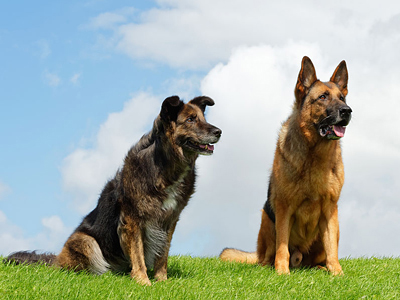 SPONSOR OUR KENNEL DOGS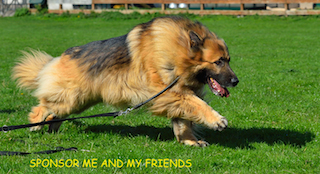 You can now sponsor our kennel dogs for £10 each or give the sponsorship as a gift to a person of your choice using the following link. You will receive a certificate and photos of the dog you choose by email. All the sponsorship money goes towards the kennel fees, feeding and veterinary care for our dogs in kennels who are still looking for their forever homes
http://www.german-shepherd-rescue-scotland.org.uk/sponsor-a-german-shepherd
We are on Facebook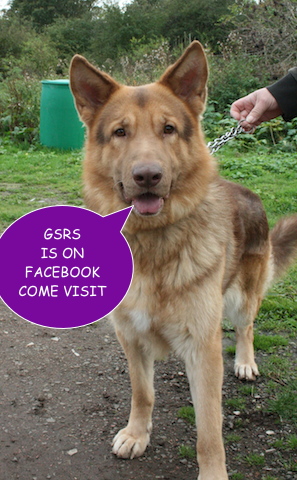 Did you know we have a facebook page for our fundraising?
Come visit us and see whats going on
https://www.facebook.com/GermanShepherdRescueScotlandFundraising
German Shepherd Rescue Scotland has a 'NO KILL' policy but we need your help to keep these dogs safe.
If you visit our site and like the work we do please consider donating. If every visitor donated even just £1 it would help us continue our work.
Don't forget to Gift Aid your donation if you are a UK tax payer. A big thank you to everyone who has donated.
| | |
| --- | --- |
| Supported by Burns | Supported by Pets at Home |