German Shepherd Rescue Scotland
Welcome to the website of German Shepherd Rescue Scotland. Whether you have decided to adopt a German Shepherd, re-home your German Shepherd or you would like to become a volunteer, we hope you enjoy browsing our site.
We have included some helpful information and advice, as well as a gallery of beautiful German Shepherds, most of them rescue dogs. If there is something you would like to see included on the site please get in touch, we would love to hear from you.
The website is regularly updated, so please keep checking back.
PLEASE NOTE: As of 20/05/2014 our landline number has been replaced with mobile number 07748 184 188.
Thank you Holly's Hugs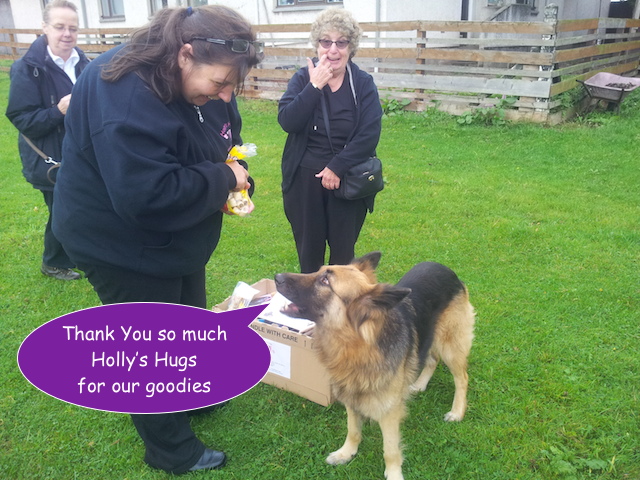 German Shepherd Rescue Scotland would like to say a huge thank you to the Holly's Hugs who visited the rescue dogs in our kennels today with an amazing box of goodies for the dogs
Cleo loving her new Kong toy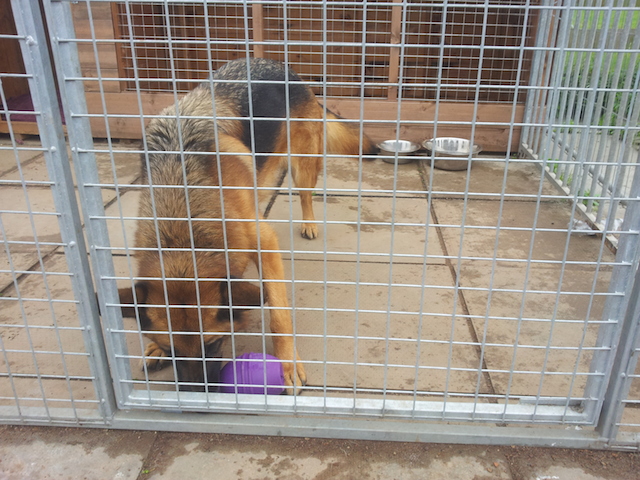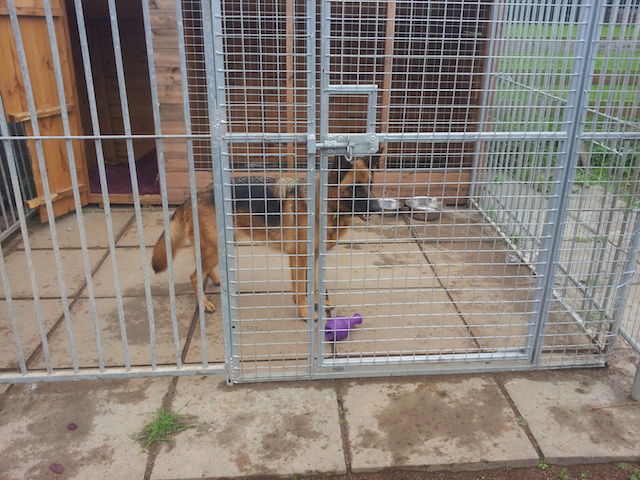 new girl Kira getting her sweetie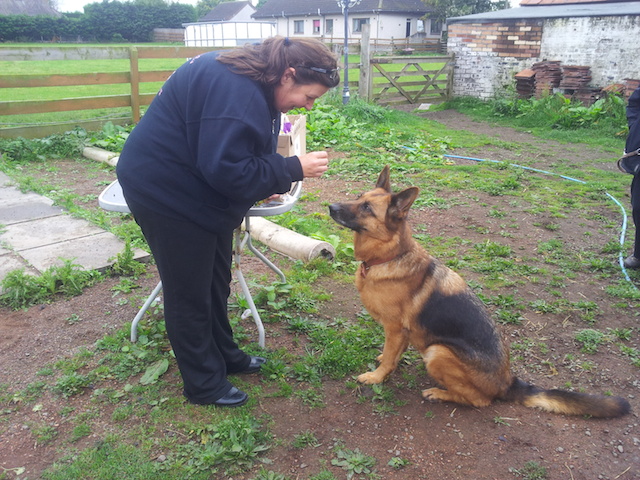 Lilly saying Thank you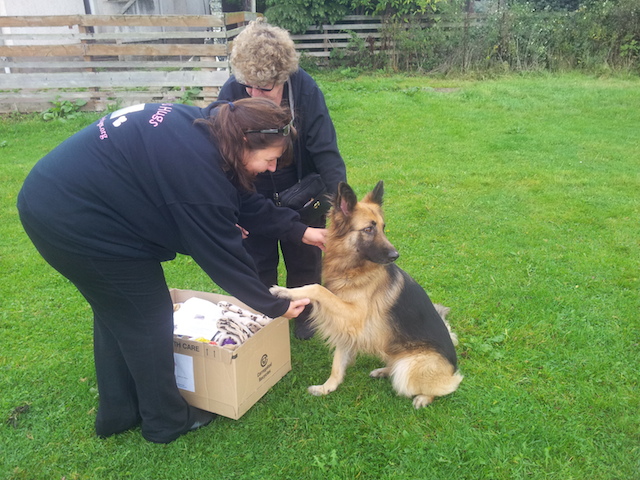 We are on Facebook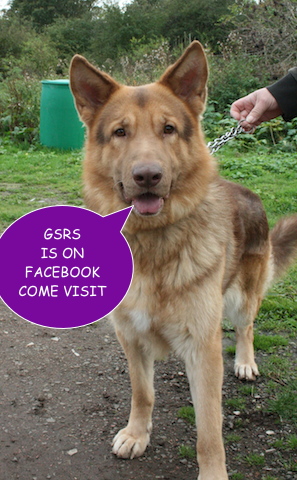 Did you know we have a facebook page for our fundraising?
Come visit us and see whats going on
https://www.facebook.com/GermanShepherdRescueScotlandFundraising
AMAZING RESULT AT OUR 2014 FUNDOG SHOW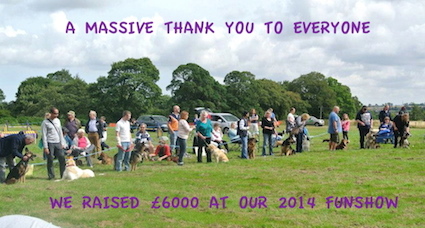 As you can see the monies raised at this years fundog show was fantastic. £6000 will help us hugely with the kennel bills, vet fees and feeding of our kennel and foster dogs.
We would like to like to take this opportunity to say thank you so much to all of our volunteers, friends, family and helpers who helped us out on the day of the show, the day could not have gone ahead without you - you were all amazing.
We also want to say thank you to the volunteers who couldnt manage on the day but sponsored classed, collected and sent us goodies for the tombola and some great raffle prizes. Both the Raffle and Tombolas were a big hit with our visitors and made us lots of money on the day.
A special thank you to the following people & Companies who sponsored the classes on the day. This sponsorship really helps boost our show fundraising every year.
BIG DAWG CUSTOMS - FI STEWART - LOSIRADREAM GSD - FERGUSONS PET SUPPLIES - ANIMAC VETS - BOBBIE & MARK HEBENTON - IAN BUTT VETS - WMH MATERIAL HANDLING - SHEILA MCNEILL & HER DOGS - PAULA CHAPMAN
And our show sponsors - Michael & Elaine Campbell - Gail Williamson & Derek Adamson - Lux & Stuart Anderson & GSD Scout - Debbie & Norrie Ritchie
Our thanks also extends to Pat Higgins and the Fast n Furious agility helpers who ran the pay on the day agility and to Debbie & Norrie Ritchie for running the gundog scurry (a new event for our show).
The list is endless but the result is remarkable.
THANK YOU ALL FROM THE GSRS TEAM
Feed a Rescue Dog - Donate a Bag of Dog Food
A HUGE THANK YOU TO EVERYONE WHO HAS DONATED FOOD FOR YOUR DOGS
You too can help by donating a bag of dog food. German Shepherd Rescue Scotland has teamed up with Ferguson's Pet Supplies (www.fergusonspetsupplies.co.uk) so that our supporters can purchase dog food to be sent directly to our kennels.
Feeding our dogs is one of the biggest costs of running the rescue so every donation of food helps a great deal. We have selected some foods we know our dogs like, all you have to do choose one of the options. It's really easy!
You make your purchase on our website, Ferguson's Pet Supplies receives the order and delivers the food directly to our kennels.
Click here to support our dogs.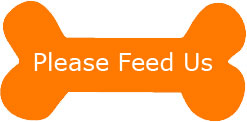 German Shepherd Rescue Scotland has a 'NO KILL' policy but we need your help to keep these dogs safe.
If you visit our site and like the work we do please consider donating. If every visitor donated even just £1 it would help us continue our work.
Don't forget to Gift Aid your donation if you are a UK tax payer. A big thank you to everyone who has donated.
| | |
| --- | --- |
| Supported by Burns | Supported by Pets at Home |