Chloe's Story - Hepatic Microvasular Dysplasia
Chloe was a pure bred, Kennel Club Registered German Shepherd. She had a good pedigree on both mum and dad's side, with her grandad a VA1 Champion in Germany. But sadly, Chloe was a very sick little girl.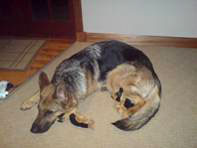 Chloe had just turned two years old when her stomach started to swell, it looked like she was pregnant. We took her to the vet where she had many blood tests to measure enzyme levels, bile levels etc. The tests came back and she had high levels of enzymes in her blood as well as her bile acid being hundreds of times over the normal limit. She was referred to another branch of the vet practice for further tests. These tests were then sent away to the Royal Dick Veterinary School in Edinburgh.
The vets at the Veterinary School came to the conclusion that Chloe had a liver shunt, an extra vein that causes blood to by-pass the liver. This means that the liver can't perform its vital functions in metabolism and detoxification, effectively Chloe's body was being exposed to toxins and bacteria because her liver wasn't functioning properly. Chloe was always lighter than average, but the vet always put this down to her busy energetic personality.
We arranged for an operation, which would enable the School to investigate further and correct the by-pass vein. On investigation Chloe was found to have multiple shunts not only on her liver, but her kidneys too. On top of that her gall bladder was almost invisible. The surgeon was amazed at the number of shunts inside Chloe, and hadn't seen anything like it before. Whilst in the operating theatre, Chloe was found to have fluid in her womb, so the surgeon recommended she be spayed at the same time. We picked Chloe up from Royal Dick Vets and she was full of life. Her scar was the length of her body and she had around 60 staples, she was all shaven and needle marks.

We asked the specialists what could we do now and if the condition would progress onto something else. Unfortunately all we could do was maintain her on her special hepatic diet which cost around £50 per month. We were advised that we may have her for another year, or maybe four and to keep her on her special food. The next progression would be when there had been too much poison passing through her body that it would eventually effect her brain. We decided there and then that when this happened, we would need to allow Chloe to go to Rainbow Bridge.
One or two weeks later at home Chloe started taking fits and walking into everything. She was acting very strange and definitely was not herself. Her condition was at its worse. It had taken two years of having this condition to effect her like it did and we never knew a thing about it until the fluid retention showed on her tummy. We had to say goodbye, such a young dog, but such an awful way to live, we couldn't do it to her. We had Chloe cremated in the March, she was 2 years 3 months old. She is in a better place now.

Hepatic Microvasular Dysplasia is more common in small breeds, having researched the condition on the internet, I only came across mention of one other German Shepherd. We are lucky we had her for the time we did, and you would have never known she was ill inside.
RIP Chloe xxx 12.12.06 to March 2008
Useful Links
www.acvs.org - (Hepatic Microvascular Dysplasia or Portal Atresia)
www.napoleon.org.uk - (Liver Shunts)
By Tricia